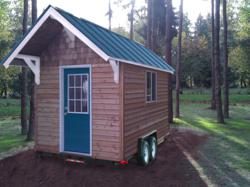 The Tiny House, and little houses are a relatively new phenomenon, but it's not surprising that these efficient homes are starting to catch on.
Portland, OR (PRWEB) February 07, 2012
The company's website: BestTinyHouse.com introduces an exciting new development in the Tiny House industry throughout their product line. The company's models include the Wallowa, the Bitterroot, and the Skagit. Best Tiny House products have resulted in an unprecedented level of utility and economy for the Tiny House builder/owner.
Tiny House Builders has combined modern technology and innovative design with advanced construction techniques that save time, energy, and money for the end user.
Bob Johnson, General Manager of Tiny House Builders says: "It is our goal to bring maximum 'customization' potential to our customers while allowing modularity of design to provide high-value at an attractive price point. We accomplish this by providing a Prefab Tiny House, delivered to the builder/owner on its own mobile chassis with the floor pre-attached." The walls and roof panels are generally four foot by eight foot panels that can be easily assembled and fastened in a few hours to provide a completed building shell.
Johnson goes on to say, "The Tiny House, is a relatively new phenomenon, but it's not surprising that these efficient homes are starting to catch on. As people look to decrease their footprint, their expenses, and live smarter, the size of one's home is one obvious place to make an improvement."
Tom Martin, Director of Marketing says: "BestTinyHouse.com was founded to provide a pragmatic and realistic approach to achieve the goal of living tiny. With that in mind we offer plan packages, material packages, prefabricated panel units, and completed structures. They can all be either trailer mounted or ground mounted on a foundation of choice."
About Tiny House Builders
Martin has provided a glimpse into the vision of the company: "We build Tiny Homes. They are not unlike travel trailers, RV's or just camping out, in that they conjure the ideal that we are independent, somewhat mobile, and self reliant."
"The company is born of a general philosophy that "less is more"; that we should do everything possible to reduce our consumption of natural resources, and to generally limit our imposition on mother earth."
###