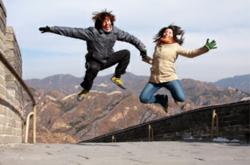 ...never before has such a super value tour been offered
Vancouver, BC (PRWEB) February 02, 2012
The Chinese New Year is arguably the most enjoyed holiday by the Chinese, both young and adults alike. And why wouldn't it be? The big lunar event calls for a shower of bright colours, dancing dragons and - the best part - lucky money.
In celebration of this wonderful lunar year, Chinapac International promotes a deal that will send two persons on a brightly coloured tour of China with the same excitement as the symbolic dancing dragons all for the price of one – just as good as the lucky money!
"In our 27 years of business, never before has such a super value tour been offered, " said Chinapac president Jenny Soares, "it is definitely something to take advantage of especially if you have long been wanting to visit China."
With elaborate itineraries that include must-visit cities Beijing, Xian and Shanghai; Yangtze River and the romantic towns of Suzhou and Hangzhou, these China tours are indeed a super sale – full package with air, land, meals and accommodation starting at just $2999 for two.
12 Day Super China is a wonderful introduction to the orient, encompassing modern cities Shanghai and Beijing, with ancient towns Xian, Suzhou and Hangzhou. This China tour a well-rounded program that features boat rides on the tranquil West Lake and the famous Grand Canal. Similarly, 13 Day Super Yangtze is your ideal China and Yangtze tour, visiting both modern and ancient cities with a special 5-star cruise on the majestic Yangtze River.
These China tours are also full of other exciting highlights including a Peking duck dinner in Beijing, amazing acrobatic show, traditional Hutong tour and other activities. Additionally, the program features centrally located 4 &5 star hotels, handpicked specially to accommodate the comfort and luxury needs of Western travelers.
"With this promotion, we hope to encourage those who have not yet had the chance to visit China to go on and do it," Soares added.
With departures set throughout the year, Chinapac's 2-for-1 sale allows you to book this trip at your convenience. 12 Day Super China air and land package starts at just $2999 per couple; 13 Day Super Yangtze air and land package is offered starting at $3999 per couple.
For more information about Chinapac's 2 for 1 Sale, visit http://www.chinapac.com or call 1-800-661-8182.
Chinapac International specializes in travel service to China and the Orient and is proud to celebrate 27 successful years in the travel industry as the premier travel package tour operator to the People's Republic of China and South East Asia.
###