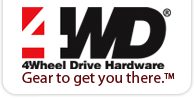 Columbiana, OH ( (PRWEB) February 03, 2012
4Wheel Drive Hardware (4WDH), the largest online distributor of Jeep parts and accessories, has built a Jeep forum to bring Jeepers together online to share installation tips, post pictures of upgrades, plan meetups for trail runs, chat about Jeep history, and much more. The forums complement other efforts by 4Wheel Drive Hardware to support the Jeep lifestyle, such as hosting local off-roading excursions, sponsoring rock crawling competitors, and participating in Jeep-themed events throughout the year.
The 4WDH Jeep forum has more than 16,000 members. At any given time, there could be hundreds of fellow Jeepers on the forum ready to dish out advice, post comments, or recruit for an off-roading trip. The all-time post count in the forums is nearly 300,000. Clearly, Jeepers are excited to have this forum to access other Jeepers who share their enthusiasm.
The 4WDH Jeep forum is categorized to help direct Jeepers to the information they need quickly. To start, there is a general forum with boards that focus on specific Jeep models. If someone is looking for a recommendation on a muffler for a Jeep Cherokee, that person can navigate to the Jeep Cherokee board, post a question, and receive almost instant feedback from other Jeep Cherokee owners. Plus, users can share all kinds of Jeep history about their vehicles, including tips and tricks that only another enthusiast would know.
The forum also contains boards dedicated to all Jeep owners. This is a fantastic place to find other Jeepers in the geographical area and form a Jeep club. Users can even organize meet-and-greets or trail rides in their areas. Or, they can get really ambitious and try to bring together Jeepers from all across the country.
There is also a board for product reviews. Users can trust these reviews, because they are coming straight from other Jeepers. These reviews focus on everything from tires to air intakes to the latest trends in Jeep clothing.
Other resources in the 4WDH Jeep forum include a classifieds section, for people who want buy or sell a Jeep, and special interest boards. These range from boards that introduce new users to the forum, boards to post Jeep pictures, and even boards to share the funniest Jeep-related jokes.
4WDH offers competitive pricing on all Jeep parts and accessories, including Jeep clothing. For more information on Jeep parts, call 800-555-3353 or visit 4WD.com.
About 4Wheel Drive Hardware: 4Wheel Drive Hardware is a top industry provider of Jeep parts and accessories, with a focus and passion for the off-road industry. Find all the latest Jeep products and connect with other Jeepers around the world at 4WD.com.
###