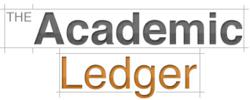 New York, NY (PRWEB) February 02, 2012
The staff of the Academic Ledger, an innovative content curation website, would like to announce two new additions. Writers Thomas Edward and Lauren Chapman have been brought on as the Ledger's newest editorial curators, who provide the invaluable service of selecting the site's content and editorial direction.
Thomas Edward graduated from New York University with a Master's degree in American literature and has been published in literary journals as well as creative writing magazines. Lauren Chapman has an educational background in the sciences, with a Master's of Science in cellular biology. She is currently applying for PhD programs.
The Academic Ledger features hand selected articles from some of the best academic writers working today. Their content is delivered from premium sources like scholastic journals, news, and blogs. The Ledger's team of editors works to collect the most readable and informative content to build the site around great stories from a variety of topics. The Academic Ledger's curators select captivating stories from fields such as economics, culture, technology, business, science, and more. Content is educational, entertaining, and always hand selected.
The site also functions as a platform for writers, enabling them to connect directly with their audience and be published among the best current authors in journalism. It is the job of curators like Edward and Chapman to search for original authors who are doing great work in their research fields and highlight their contributions on the Academic Ledger.
About the Academic Ledger
The Academic Ledger is an information and news aggregator site created to collect and share the best current writing on science, economics, business, and more. The site's curators deliver articles from across the web that expand the horizons of academic discourse and provide engrossing reading for both casual readers and serious academics. Visit the Academic Ledger at http://www.AcademicLedger.com.
###