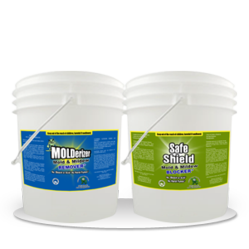 The complimentary sample being offered is due to the large part of Molderizer's success with it's private clients.
Fort Lauderdael, FL (PRWEB) February 04, 2012
Molderizer.com is celebrating its new agreement with some of its larger mold remediation companies, by offering a complimentary sample of it's green mold cleaning kit.
The Special Products director said "the complimentary sample was due to the large part of Molderizer's success with it's private clients. The agreement was to only allow Molderizer and Safe Shield to be sold to specific mold remediation companies. After great success and larger profits from the unique formula, Molderizer has set a new agreement to release it's new Molderizer mold remediation products to the public and other mold professionals."
According to NewsObserver.com, in November a Orlando, Florida man purchased his lake front dream house. Only to find a year later he was a sick man due to black mold.
Molderizer.com was in shock of larger outbreaks more frequently from black mold. As one can see in the news, mold continues to be on the rise destroying homes and properties. In order to subside the health related issues and difficulty in removing mold entirely.
Molderizer.com new formula, which includes Safe Shield and Molderizer is designed to not only kill black mold, by breaking down the DNA of the mold spores. But also, Safe Shield is used as a mold prevention product which will create a clear barrier on any surface. This clear barrier will entrap the mold spores and help avoid any future mold reproduction.
For more information about the new Molderizer mold remediation products. The company is offering mold advice and a complimentary sample of it's kit to both consumer and mold professionals. To grab your complimentary sample visit http://www.molderizer.com
# # #