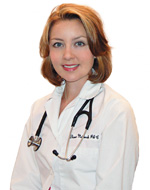 Treating these underlying health conditions may improve incontinence symptoms.
Neenah, Wis. (PRWEB) February 02, 2012
Heart disease affects the bladder in several ways, according to Dianna Malkowski, physician assistant, nutritionist and professional adviser for The CareGiver Partnership.
"Heart disease can cause excessive urination or urine buildup, leading to urge incontinence. And peripheral vascular disease, a heart-related condition caused by blocked arteries in the arms and legs, hinders mobility, making it difficult to reach the bathroom in time," says Malkowski. "If heart disease progresses to congestive heart failure, the patient experiences increased fluid output, which can lead to incontinence because of rapid and excessive filling of the bladder."
Treating these underlying health conditions may improve incontinence symptoms, according to Malkowski. She says the following strategies often are recommended by cardiologists to their heart patients: eating a healthy diet of vegetables, fruits, fish and lean meats; cutting out unhealthy fats, sugars and salt; participating in an exercise program based on level of mobility; reducing stress; and quitting unhealthy habits, like smoking."
"Many types of medications also affect the bladder and its ability to function properly," says Malkowski. "Heart and blood pressure medications can affect bladder muscles, diuretics can contribute to incontinence, and medications that relax the muscles or contribute to immobility can contribute to incontinence."
Malkowski recommends talking to a doctor about medications and whether they contribute to incontinence. "Ask if there are any nondrug therapies you can try, such as lowering blood pressure through a device like RESPeRATE, which has been proven in clinical studies to reduce blood pressure through the use of bio feedback or deep-breathing exercises."
The CareGiver Partnership is a national direct-to-consumer retailer of home healthcare products for incontinence, diabetes, nutrition support and more. In its sixth year of providing products and services that help caregivers and loved ones maintain personal dignity, the company also offers an online library of more than 1,200 family caregiver resources and personal service by experts in caregiving. Call 1-800-985-1353 or visit online at http://www.caregiverpartnership.com.
Dianna Malkowski is a Board Certified Physician Assistant and Mayo Clinic trained nutritionist specializing in diabetes, cancer, wound healing, therapeutic diets and nutrition support. She serves on the board of professional advisors for The CareGiver Partnership and enjoys working with patients and caregivers alike. Ask Dianna a question.
###