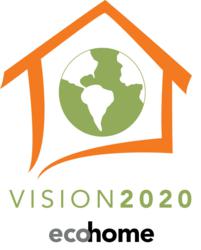 Washington, DC (PRWEB) February 02, 2012
EcoHome magazine announced today the official launch of Vision 2020, a first-of-its kind virtual Sustainability Summit comprised of the nation's foremost experts in key sectors of sustainable design. The group will convene quarterly throughout 2012 to share research, uncover the greatest technological innovations and map a critical path toward sustainability for the residential construction industry between now and 2020.
Led by Rick Schwolsky, editorial director of EcoHome, Vision 2020 is an unprecedented gathering of experts representing the key sectors of sustainable design, including the areas of land use and planning, energy and carbon, regenerative design, materials and resources, water efficiency, indoor environmental quality, products and performance, building systems research, green building codes and market transformation.
"Environmental challenges facing us as a nation and an industry have grown increasingly urgent over the past 40 years," said Rick Schwolsky, editorial director for EcoHome. "And while we've made great strides in the right direction, we still face enormous hurdles. The good news is that the building sector is in position to lead the way toward sustainability, and if we follow the right path along a critical timeline, we can actually help reduce carbon emissions, slow the effects of climate change, and conserve our natural resources. This is the mission of our Vision 2020 research team – who will work throughout this year to lay out the metrics and milestones and create the new roadmap to a sustainable future. The clock is ticking – it's time to put our future in focus today."
The Vision 2020 section chairs are:
Bob Berkebile, BNIM
Christopher Leinberger, The Brookings Institution
Edward Mazria, Architecture 2030
Francesca Desmarais, Architecture 2030
Nadav Malin, BuildingGreen
Carole Baker, Alliance for Water Efficiency
Mary Ann Dickinson, Alliance for Water Efficiency
David Jacobs, National Center for Healthy Housing
Alex Wilson, BuildingGreen
Peter Yost, BuildingGreen
Michael Dickens, IBACOS
Sam Rashkin, U.S. Department of Energy
Cliff Majersik, Institute for Market Transformation
You can learn more about the chairs at http://www.ecohomemagazine.com/vision-2020/.
About EcoHome
Published by Hanley Wood, LLC, EcoHome is a trusted media source for green-focused builders, architects, and other industry professionals in print, online, and in person. Its award-winning coverage of certified green building projects and products cuts through the confusion surrounding green/sustainable product selection, and delivers the highest levels of clarity, accuracy, and credibility to the home building professionals who rely on our content for professional guidance. http://www.EcoHomeMagazine.com
# # #