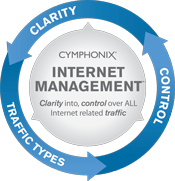 Salt Lake City, Utah (PRWEB) February 01, 2012
Today, Cymphonix released their upcoming schedule of events for the month of February. Building on the momentum their Internet Management solutions are gathering, Cymphonix will be participating in several regional tradeshows covering the Education IT markets as well as hosting multiple webinars covering key topics of interest around Internet Management and Cloud Enablement.
From February 6-10, Cymphonix will be exhibiting and presenting at the Texas Computer Education Association's annual conference in Austin, Texas. During the conference, on Wednesday the 8th at noon, Scott Myers, Cymphonix Sales Engineer, will present, "Internet Management for Education: How to Identify and Control the Four Types of Internet Traffic."
At the Pennsylvania Educational Technology Expo and Conference held February 12-15 in Hershey, Pennsylvania, Cymphonix will be exhibiting and sponsoring. Attendees can visit with Cymphonix to learn more about how to better manage their Internet connection, move beyond simple filtering to address robust content like social and streaming media, how to prevent anonymous proxy and filter bypassing efforts by students and staff, achieve CIPA compliance with Cymphonix products, and how to gain clarity into crucial traffic coming from Cloud and hosted services Blackboard and content providers like YouTube for Education.
Additionally, Cymphonix will conduct eight webinars throughout the course of February, all open to the public. Two sessions will be presented with key Cymphonix resellers IT1 Source of Scottsdale, Arizona, and Atlanta-based Resilient Data. Topics covered include: how to manage Internet connection overloads resulting from March Madness, how Cloud performance hinges on the Internet connection and how to optimize for it, and identifying and controlling the four types of traffic educational institutions must manage.
For a full webinar schedule with topics, dates, times and registration options, please visit http://www.cymphonix.com/webinars.html.
About Cymphonix
As more mission critical applications and systems are offered as Internet-based utilities or services, the Internet connection has become as important as telephone service or electricity. Organizations are increasingly under pressure to ensure performance, reliability and security of services such as e-mail, CRM, procurement, VOIP, and more. Regardless of where or how these solutions are hosted, the common limiting factors are the size and management of the on-premise Internet connection.
Cymphonix® develops Internet Management solutions that give organizations clarity into and control over all users, applications, web activity, and Internet-based threats so they can effectively ensure the performance, reliability and security of utilities and services that rely on an Internet connection like ERP, CRM, Cloud services and storage, procurement, VOIP, and more.
Core to Cymphonix Internet Management™ is the Network Composer® appliance which provides a single interface for traffic analytics and policy management tools that allow users to fully manage their Internet circuit, ensuring it's secure, high-performing, and reliable. Founded in 2004, Cymphonix is located in Sandy, Utah, is privately held and backed by Intel Capital, Mercato Partners, Prospector Equity, and vSpring. More information at http://www.cymphonix.com.
# # #