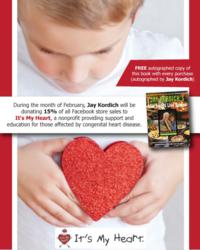 We feel privileged to support a foundation that raises awareness and builds support for CHD
Seattle, Washington (PRWEB) February 01, 2012
DNA Response, Inc., provider of interactive marketing and order management, will donate 15 percent of proceeds from sales from the Jay Kordich Facebook store from February 1, 2012 through February 29, 2012 to It's My Heart, a nonprofit providing support and education for those affected by congenital heart defects. Users who order from the Facebook store will also receive a complimentary "Jay Kordich's Live Foods Live Bodies Book," valued at $39.95 and autographed by Jay Kordich.
It's My Heart is a non-profit organization created to provide support to and advocate for those affected by acquired and congenital heart defects (CHD). It's My Heart creates alliances and networks among families, groups, hospitals and communities to build awareness and education about CHD. It holds monthly webinars and support groups and annual family conferences and awareness walks.
"We feel privileged to support a foundation that raises awareness and builds support for CHD," said Ranjit Mulgaonkar, CEO of DNA Response, Inc. "Congenital heart defects are the #1 birth defect worldwide, but with increased understanding and early detection, we can help save lives."
A congenital heart defect is a problem with the structure of the heart at birth. A baby's heart begins to develop shortly after conception, and during this development, structural defects can occur in the walls, the valves and the arteries of the heart. These defects disrupt the normal flow of blood through the heart, making it slow down, go in the wrong direction or blocking the blood flow completely.
About one out of every 100 babies are born each year with some type of CHD in the United States, averaging approximately 40,000 a year. But, it is a proven fact that the earlier CHD is detected and treated, the more likely that the child will survive and have less long-term health complications.
Facebook users can help raise awareness of CHD by purchasing a Jay Kordich product from the Facebook store during the month of February. Jay Kordich's Facebook store offers two juicers; the Deluxe 2-in-1 juicer-blender and the acclaimed new PowerGrind Pro Juicer, which can even make nut milk, like almond milk. These products are convenient, easy-to-use and simple to clean. They can be used to juice both hard and soft fruits and vegetables, creating delicious and nutritional drinks.
Users can also purchase the book, "The Live Foods Live Bodies Program," which is designed to help you live longer and live better. The set also includes two DVDs and five CDs, which showcases Jay and his wife Linda's 90 years of nutrition experience and knowledge.
About DNA Response: DNA Response, Inc. (DNA) provides turnkey e-commerce, online marketing, and order management services to companies in the $300 Billion direct response market. DNA clients sell products direct to consumers using TV, radio, print catalogs, web and mobile as their sales channels. DNA's ECOM2TM platform utilizes state-of-the art cloud computing technologies and services to improve operational efficiency by reducing transaction costs, eliminating credit card declines, and lowering order cancellations and product returns, while simultaneously increasing online revenue for our clients. DNA provides universal order management for processing orders in real time from all the sales channels with full visibility to the business for the clients. DNA generates incremental revenues and helps build a brand for our clients by providing comprehensive e-commerce and online marketing services.
###