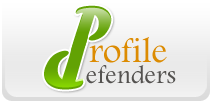 We live in the midst of the Internet Age, an age when companies should be thriving thanks to all the additional exposure they are receiving. Unfortunately, some businesses are suffering because an unruly customer, disgruntled ex-employee or rival company
New York, New York (PRWEB) February 02, 2012
Profile Defenders has a reputation of providing the very best online reputation management (ORM) services to their many clients. Their mission – to restore the image of those who have been victimized by online slander through a comprehensive suite of services designed to combat negativity. Having met with resounding success, Profile Defenders has decided to give their website, ProfileDefenders.com, a fresh new look that matches their unique and innovative methods and techniques.
We live in the midst of the Internet Age, an age when companies should be thriving thanks to all the additional exposure they are receiving. Unfortunately, some businesses are suffering because an unruly customer, disgruntled ex-employee or rival company posted malicious and defacing comments on a popular review site or a personal blog. These accusations are often times unfair and do not justly represent the afflicted company. Outraged, these companies seek protection from being victimized. Up until fairly recently there was little they could do to protect their valuable image, but Profile Defenders was founded to change all that. As stated on their website, "The Internet should help your business grow and prosper. Let us help you use the World Wide Web to your advantage."
Profile Defenders is proving their commitment to providing high quality services to clients. Now, it will be even easier for prospective customers to get all the information they need in regards to Profile Defenders vast array of services. This includes a frequently updated blog that illustrates their techniques and speaks freely about reputation management and how a negative image can have a devastating impact on a company's financial future. Also provided are clear and easy to use menus that display their packages and talk about Profile Defenders history and reputation for success. Clean, crisp and accessible, the new face of ProfileDefenders.com is not to be missed.
An Online Reputation Management Company, Profile Defenders has offices located in New York City, Washington, D.C and Fort Lauderdale, Florida. Their website is located at http://profiledefenders.com/.
###