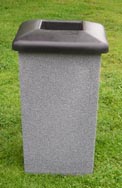 (PRWEB) February 03, 2012
Dawn Enterprises, LLC, leading manufacturer of outdoor site furnishings currently supplies Pilot and Flying J travel centers with their exterior trash receptacles. The stone aggregate waste cans are designed to be a low maintenance and lighter weight alternative to standard concrete trash can options. In addition, they offer lower initial and replacement costs as well as savings on shipping charges when compared to other trash receptacle lines.
The stone trash receptacles are designed to meet the high traffic needs of convenience store, quick serve restaurant, and property management clients. Their durability allows them to easily withstand harsh weather and offers a great solution for gas stations, restaurants, and shopping plazas.
Dawn Enterprises' long time customers Pilot and Flying J joined forces in July of 2010, becoming Pilot/Flying J Travel Centers. They currently have over 550 locations in 47 states, but are rapidly expanding throughout the US and Canada. All of the stone aggregate trash cans Dawn supplies are branded with 10" logos affixed to the front of the units.
For more information on Dawn's trash receptacles visit this page of their online catalog: http://www.godawn.com/category/trash-receptacles.htm. For a more complete product listing of Dawn's concrete, stone, plastic and metal outdoor furnishings available, including park benches, bollards, tables, and planters, visit their main website at http://www.godawn.com.
###