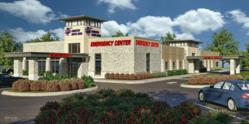 "Free-standing emergency departments provide an easy way for people to get to the ER without going too far from their neighborhoods."
AUSTIN, TX (PRWEB) February 02, 2012
Emergency Service Partners, L.P. (ESP) has reached an agreement to staff and provide medical management for two new free-standing emergency medical facilities set to open later this year. One will be located in northwest San Antonio, and the other will be built in nearby New Braunfels, expanding access emergency medical care in both cities.
"These facilities bring the hospital into the community," said Dr. Dennis Watts, Executive Vice President of Business Integration for Austin-based ESP. "Free-standing emergency departments provide an easy way for people to get to the ER without going too far from their neighborhoods."
The Christus Santa Rosa Emergency Centers will be owned by Christus Santa Rosa Health System, a not-for-profit, Catholic faith-based health system that operates a network of hospitals in the San Antonio area. ESP has provided complete medical management for the emergency department at Christus Santa Rosa Hospital in New Braunfels since 2002.
A number of free-standing emergency departments have opened in Texas in recent years, as part of an effort to provide broad-based emergency services to communities that do not have easy access to hospital-based emergency care, Watts said.
Unlike some similar facilities, the two new Christus 24-hour emergency centers will be fully equipped and will provide a full range of emergency medical services, just like emergency rooms in a traditional hospital. Both facilities will operate under the neighboring hospital's license and will comply with all the same operational and construction requirements of hospital-based emergency departments.
Both patients and physicians will benefit from on-site imaging services (including CT and ultrasound), a full laboratory and a full hospital emergency department staff, including an on-site respiratory therapist. Emergency transportation will be available to patients requiring inpatient hospital care.
The 11,000 square foot, 10-bed San Antonio facility will be located in the Alon Town Centre at Northwest Military Highway and Wurzbach Parkway in northwest San Antonio. The New Braunfels location will be a 12,000 square foot, 10-bed facility just east of I-35 on FM 306, adjacent to the Creekside Town Center.
ESP expects to hire about five full-time, board-certified emergency physicians for each facility.
http://www.flickr.com/photos/75076231@N02/
About Emergency Service Partners, L.P.
Founded in 1988, Emergency Service Partners, L.P. is a physician management group specializing in hospital emergency departments (EDs). The physician-owned and physician-managed partnership has approximately 350 physicians and mid-level providers. ESP currently serves more than 20 EDs across Texas, including all emergency rooms in the Austin-based Seton Healthcare Family. For more information, please visit http://www.eddocs.com.
###