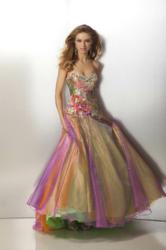 When creating this online inventory system we set out to design something that was simple enough for anybody to use
Philadelphia PA (PRWEB) February 02, 2012
Clarisse Inc. has recently introduced their unique new online inventory system to satisfy customer demand and help Clarisse retailers worldwide boost sales. The new system comes amid a year of big steps for the Philadelphia area designer and has been specially designed for maximum accuracy and user friendliness.
The season of exciting firsts continues for prom and special occasion fashion designer Clarisse Inc. This past August saw the burgeoning Philadelphia fashion house make their first official appearance at the Dallas and Atlanta prom markets, where their unique business model and diverse new prom line made Clarisse stand out from the field of market newcomers. Soon after Clarisse produced their first run of promotional pamphlets for their US and Canadian retailers, complete with a clever little "Prom Survival" checklist to help girls remember small essentials on their big night. Now Clarisse is reaching out to retailers throughout North America and the world to announce that their innovative online inventory system has gone live.
A vital tool for supporting retailers in the 21st century market, online inventory has been both a source of joy and aggravation for many retailers over the last few years. While the convenience and ease of access granted by online inventory systems can allow retailers to finalize sales and submit purchase orders around the clock, many boutique owners complain that such systems are rife with inaccuracies and that the systems themselves are often not user friendly enough for them to place orders with confidence. A brief tutorial of the Clarisse online inventory system given earlier in the week by Clarisse Inc. owner Daniel Adrian shows that the designer constructed their system with these concerns in mind.
While Clarisse may be far from the first special occasion designer to go live with online inventory initial user feedback suggests that this new system was worth the wait. Featuring live product availability simplified through an easy to understand color coding system, green, yellow and red just like a traffic light, the user interface is already winning praise less than 1 week after finishing its beta testing phase. In addition Clarisse has built in safety features designed to ensure that system won't generate inaccuracies or result in product oversells, two problems that have plagued some of their competitors' systems since their inception.
"When creating this online inventory system we set out to design something that was simple enough for anybody to use," Mr. Adrian said when asked about the inspiration behind the design, "In fact the main reason we chose the stop light as an availability indicator is because it's a universal and easily understood symbol that cuts across language barriers. So far the response has been really positive and we're happy that we were able to provide our retailers both in the U.S. and abroad with another tool to help them drive Clarisse sales."
When asked what aspect of the business Clarisse would be focusing on developing next, Mr. Adrian indicated that the new top priority for Clarisse Inc.'s innovative marketing team would be in the sphere of social media and online branding. However he declined to elaborate on the specifics, saying simply "It will be unveiled sometime next month, and I promise it will be something that the industry has never seen before."
Clarisse Inc. a manufacturer of prom dresses and evening wear is located in Philadelphia, PA and operates on a facility of over 20,000 square feet. Clarisse dresses and gowns can be found in fashion boutiques all over United States, Canada and Europe. For more information contact Clarisse directly at 18887766012 or visit their website http://www.clarisse.us
###