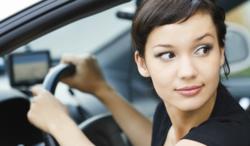 Whether parking or living, I think women take more time when choosing where to park their money, and how to make decisions for their families." Dawn Billings, CEO and Founder of The Heart Link Network
Mesa, AZ (PRWEB) February 17, 2012
Dawn Billings, CEO and Founder of The Heart Link Women's Network polled women attendees in U.S., Canada, and Australia to determine if parking habits translated to other decisions women make. Billings invited The Heart Link Women's Network Leaders and attendees to share their thoughts about the recent parking research, and their opinions about possible correlation to other decision making processes in women's lives. Billings was curious to women's thoughts after stumbling upon the U.K experiment, pioneered by driving instructor Neil Beeson, that scrutinized the skills of both sexes, using hidden camera surveillance in various parking lots. The research showed, contrary to popular belief, women are better at parking than men.
Car park firm NCP produced the study, during which researchers observed 2,500 drivers across 700 different parking lots. The comprehensive parking study took seven different parking styles into account and drew some interesting conclusions. Women are higher-quality parkers although they take longer to park, according to the footage.
Women taking part in The Heart Link Women's poll believe that women are not only slower to park, but, they take their time when choosing which products and services to buy. Women are not only better at finding parking spaces, but they are better at finding value for dollars spent. Women are not only more accurate in lining themselves up to enter a parking space, but they as a gender, they like playing fair in their business dealings.
"Women don't like it when someone misparks or behaves badly in a parking lot," says Billings. When I asked women about the studies finding that women are more likely to use driving instructors' preferred method of backing into spaces, a great percentage of the women polled responded that they believe it is because women like to look forward, instead of backwards, and they like to have the security of not making a mistake when pulling out of a space and possibly harming someone. I loved their answers and personally resonated with them."
"Just as fifty-two percent of women ended up in the middle of their respective parking spot, compared with only 25 percent of men, and 39 percent of women backed into spaces -- the expert recommendation -- compared with 28 percent of men," says Billings. "I believe women are careful to evaluate the best way to park their dollars and direct their families lives."
###