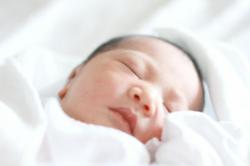 Parents lose between 400-750 hours of sleep during baby's first year of life, which is the equivalent of losing 50-94 full 8-hour nights of sleep.
Winnetka, IL (PRWEB) February 02, 2012
In his book, Sleep Thieves, author Stanley Coren states that parents lose between 400-750 hours of sleep during baby's first year of life, which is the equivalent of losing 50-94 full 8-hour nights of sleep. As recent research suggests, the toll it takes on the child and the parents is no laughing matter.
A new study published by The Journal of Clinical Endocrinology & Metabolism shows a correlation between sleep loss and an increase in appetite and the desire to eat. Research conducted by Kaiser Permanente/Harvard Medical School on sleep loss and weight gain shows that new moms with non-consolidated sleep are three times more likely to weigh an extra 11 pounds by baby's first birthday. Moms whose babies keep them up at night are also more likely to suffer from postpartum depression and new dads suffer too, as the ongoing stress leads to a disconnect between the parents. Attention, memory, creativity, decision-making, problem solving and general performance levels are all affected by sleep loss which impacts both parents' performance at work. Sleep deprivation also negatively impacts health--weakening the immune system, elevating blood pressure, and increasing inflammation.
Parents now also need to be concerned that this is not just a phase in their baby's life. In January 2012, researchers from Cincinnati Children's Hospital and British Columbia Children's Hospital confirmed that many children do not naturally outgrow sleep issues, and if they are not addressed, will continue into childhood.
Chicago-based certified infant and child sleep consultant, Kim Schaf, agrees that tackling the sleep problem early on is the most important step in avoiding these issues. Developing a bedtime and nap time routine, removing sleep props and being consistent are the keys to promoting healthy sleep habits for babies.
Through one-on-one sessions and group seminars, Schaf helps parents develop a customized sleep plan that addresses their family's specific challenges. With her help, parents learn to stop arguing about how to deal with their tired baby or toddler, develop a plan they can implement together, and regain their connection as a couple and a family.
The important thing for families to understand, according to Schaf, is that sleep problems (and the resulting health issues) can be avoided. Babies and toddlers want to sleep and are happier, healthier, and more able to learn when they can do so successfully.
About Sleep Training Solutions
Sleep Training Solutions, a leading infant and child sleep consulting company based in the Chicago area, provides education and training to parents and caregivers in the Chicago area and across the country to resolve sleep problems in infants and children. Sleep problems that can be addressed include issues with bedtime, night wakings, naptime and early rising in infants and children up through age eight through private consultations and group seminars. A free 15-minute telephone evaluation is currently being offered to parents to discuss child's sleep situation and a free report on helping baby sleep through the night is available on the website. Find us on Facebook and Twitter.
About Kim Schaf
Kim Schaf is the Founder and President of Sleep Training Solutions and the Midwest Regional Director (USA) for the Association of Professional Sleep Consultants (APSC). After completing an extensive training and mentoring program with one of the world's most respected child sleep authorities, she became a Certified Infant and Child Sleep Consultant and offers expert guidance on behavioral sleep issues to parents across the country. She also provides community education on child sleep issues, leading workshops at preschools, day care centers, pediatrician offices and new mom groups. Kim has a Master of Arts degree in Teaching and is a member of the American Sleep Association and the North Suburban Children's Business Network. She lives in a northern suburb of Chicago with her husband and two small children, both of whom are excellent sleepers.
For more information
Contact: Kim Schaf, M.A.T.
(847) 386-6285
Kim(at)SleepTrainingSolutions(dot)com
Photo: Jomphong / FreeDigitalPhotos.net
###