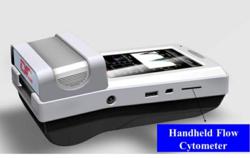 Burlington, NC (PRWEB) February 03, 2012
The advantages of the Diagnostic Chips' handheld Flow Cytometer lab-on-a-chip technology are significant. The device cost is only a fraction of the conventional bench-top flow cytometers. Sample size and reagents consumption is greatly reduced to only 5~10 micro liters. The handheld weighs less than 1.5 lbs. It is quick and easy to operate for point of care and field applications. It allows for AC or DC operation.
The truly handheld flow cytometer lab-on-chip technology developed by Diagnostic Chips LLC provides speed, accuracy and portability for biology and medical diagnostic applications such as counting bacteria and cells, and for detecting a specific type of white blood cell, CD4, used in identifying HIV infection from a small drop of blood.
"This is a major breakthrough in biomedical diagnostic devices", said Dr. Dongqing Li, an international leading scientist in Microfluidics and Lab-on-a-Chip technology, and the inventor of the device. Burlington Technologies based in Burlington, North Carolina, organized Diagnostics Chips LLC in 2009 to develop the electrokinetic microfluidic technologies of Dr. Li.
The market for this technology is huge. This technology has wide applications in the diagnosis of cancers, leukemia and HIV, drug discovery, drug doping tests, stem cell and gene therapy, hematology, transplantation, tumor immunology and chemotherapy, genetics and sperm selection and sorting. It also can potentially be used for detecting bacteria in food samples.
Diagnostic Chips' handheld flow cytometer technology also opens many new markets that are non-FDA regulated which the conventional flow cytometers cannot enter. For example, the handheld flow cytometers can potentially be used as a low-cost, portable experimental (test) tool/instrument in countless numbers of medical and biology laboratories for scientific research, food safety tests, infertility tests, environmental tests, detection of infection diseases at the borders, and HIV diagnosis in under-developed countries.
Patents for this technology are pending. A Notice of Allowance from the USPTO is expected in the very near future. Commercially-ready devices of the handheld flow cytometer have been manufactured at Wistron Corporation, an international leading electronics OEM company in Taiwan, and are ready for large scale production.
Diagnostics Chips is looking for potential business partners to commercialize the handheld flow cytometer devices and the disposable testing chips.
If interested, please contact Mr. Al Blalock, Managing Director of Diagnostic Chips.
W: 336-343-4576
ablalock(at)burlingtontechnologies(dot)com
http://www.burlingtontechnologies.com
###