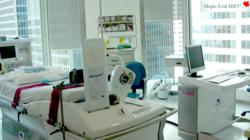 Dr. Orovan explains, "HIFU is a very safe and effective treatment option that should be considered by all men with organ confined prostate cancer.
(PRWEB) February 03, 2012
Maple Leaf HIFU was the first HIFU clinic to open in North America, shortly after Health Canada approved HIFU for treating prostate cancer in 2003. HIFU, or High Intensity Focused Ultrasound, is a non-surgical prostate cancer treatment option where ultrasound waves are delivered through a rectal probe.
The ultrasound waves increase the temperature within the prostate to 85 degrees Centigrade. Using the computerized Ablatherm device, prostate cells are destroyed with pinpoint accuracy, with minimal or no damage to surrounding tissues and organs.
The procedure has proven to be very successful, but Maple Leaf HIFU opted not to renew its exclusive contract with the manufacturer EDAP in order to avoid onerous financial commitments. Maple Leaf HIFU was chosen as their exclusive distributor for entry into the North American market in 2005. Currently, Ablatherm HIFU is going through clinical trials with the FDA in the United States.
Demand for the procedure is increasing with both patients and urologists as the successful data and patient stories become more widely known. The device and treatment was approved in Europe years before it became available in North America. The FDA is expected to provide a response on the Ablatherm HIFU trial in early 2013.
Dr. William Orovan is the Medical Director of Maple Leaf HIFU, the clinic that pioneered the treatment option in North America. Located inside the Cleveland Clinic Canada, Maple Leaf HIFU has performed more HIFU treatments than any other clinic in North America.
Dr. Orovan, a urological surgeon, professor and medical ambassador, is part of a research team that will be releasing new research documenting the successful treatment of prostate cancer using Ablatherm HIFU. The study, will be published soon in the British Journal of Urologists. The Maple Leaf Clinic staffs top urological surgeons specially trained in the HIFU method.
Dr. Orovan explains, "As someone who has treated prostate cancer for almost 30 years, and has done radical prostatectomies and referred patients for radiation treatment, I think HIFU is a very safe and effective treatment option that should be considered by all men with organ confined prostate cancer.
We have successfully treated over 700 prostate cancer patients from the U.S. and Canada, and are looking forward to sharing our successful results of the past 7 years with other urologists and the medical community. We plan to continue to expand our leadership role with this preferred alternative treatment option."
The need for this option continues to increase as the number of prostate patients increase. Prostate cancer has become the number one cancer affecting men in North America, with 25,500 men in Canada and 250,000 men in the United States expected to be diagnosed this year. Prostate cancer is the second leading cause of cancer deaths with 1 in 7 dying of the disease.
The Ablatherm HIFU prostate cancer treatment alternative has grown in popularity, since it is a minimally invasive and effective treatment option which helps preserve patients' quality of life and has fewer significant side effects. The procedure is recommended for patients with stages T-1 or T-2 localized prostate cancer. The treatment is particularly popular with patients who are not candidates for surgery, patients who failed radiotherapy treatment and younger men concerned with side effects including impotency and incontinence. The procedure lasts 2-3 hours, and is done on an out-patient basis.
For more information on the HIFU prostate cancer treatment or on Maple Leaf HIFU, please visit http://www.HIFU.ca.
###