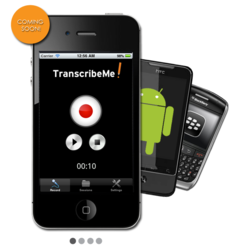 By leveraging on the DEMO Asia's network, TranscribeMe will be able to reach out to a global audience.
(PRWEB) February 03, 2012
Microsoft BizSpark in conjunction with partners Startup Weekend and Founder Institute announce New Zealand company TranscribeMe as winner of the Asia Pacific (APAC) region scholarship to present at the DEMO Asia startup launchpad in Singapore. Ten outstanding startup companies from the APAC region have been chosen, with only one lucky company hailing from New Zealand.
The team at TranscribeMe invented and developed a new way to convert voice to text with the help of remote human experts. Their early beta customers use a smartphone app to record meetings, interviews and dictation, and receive accurate transcripts back as an email. The text transcripts are searchable and are easy to access and share, and the service works in multiple languages.
DEMO is one of the top global venues for emerging technology startups and DEMO Asia is the first DEMO event in the Asia Pacific region. It is an opportunity for TranscribeMe to gain global exposure on this premier platform, where the region's best and brightest come to pitch and launch products to a global audience. For companies having a product in demand by clients in the South East Asia marketplace it is a must attend event.
By winning this prestigious honor TranscribeMe have an opportunity to present an Alpha Pitch at DEMO Asia and a raft of other opportunities to network and to present to some of the biggest names in technology, on the globe. In addition to the Alpha Pitch, TranscribeMe will receive:

Display booth in the BizSpark Pavilion at DEMO Asia
Two individual DEMO conference passes
Video of the TranscribeMe pitch posted on the DEMO Asia 2012 website
A backstage 3 minute interview on DEMO Asia
TranscribeMe CEO and Stanford MBA graduate, Alexei Dunayev, knows that this opportunity means a lot more than just making a pitch to some serious players. Dunayev commented, "By leveraging on the DEMO Asia's network, TranscribeMe will be able to reach out to a global audience. This includes future customers, global media, investors and potential strategic partners."
He is not wrong. It is fair to say that many of the world's top companies such as Adobe, Cisco, Google, Microsoft, Motorola, Symantec and Yahoo have all, in one form or another, acquired products presented and brought to their attention at DEMO. Some of these acquisitions have grown to become household names. This year DEMO Asia 2012 will run in Singapore from Feb 29 – March 2.
Readers can sign up for the exclusive beta program on TranscribeMe website and follow their story on the blog and talk to them on twitter (@TranscribeMe).
For further information:
Helga Sonier
Public Relations
TranscribeMe
San Francisco, California
Auckland, New Zealand
Media(at)TranscribeMe(dot)com
###