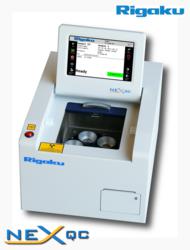 Austin, TX (PRWEB) February 02, 2012
Applied Rigaku Technologies, Inc. today announced the publication of a new Application Note for the analysis of sulfur (S) in oil per ASTM D4294. Application Note #1135 demonstrates the efficacy of the Rigaku NEX QC benchtop energy dispersive X-ray fluorescence (EDXRF) analyzer for this measurement.
Sulfur will always be an important element in crude and fuels oils, and plays a significant role in fuel quality as well as in the control of polluting emissions. Worldwide, regulations limit allowable sulfur content in diesel fuels, kerosene, heating oils, and similar fuels. Jet fuels also rely on the measurement of sulfur content to ensure optimum fuel properties and maintain emission standards. The monitoring sulfur content, from characterizing, blending and refining crude oil, to the production of various fuel oils, therefore continues to be an essential analysis.
The method described in the application note complies with international standards for measuring sulfur in crude and petroleum oils and demonstrates the ability of the NEX QC, a simple and versatile benchtop EDXRF analyzer, to yield exceptional results for the measurement of sulfur in diesel fuel in air, without the need for helium purge.
A copy of this report may be requested at:
http://www.rigakuedxrf.com/edxrf/app-notes.html?id=1135_AppNote
About Rigaku
Since its inception in Japan in 1951, Rigaku has been at the forefront of analytical and industrial instrumentation technology. Rigaku and its subsidiaries form a global group focused on life sciences and general purpose analytical instrumentation. With hundreds of major innovations to its credit, Rigaku and its subsidiary companies are world leaders in the fields of small molecule and protein crystallography, X-ray spectrometry and diffraction, X-ray optics, as well as semiconductor metrology. Rigaku employs over 1,100 people globally and its products are in use in more than 70 countries – supporting research, development, production control and quality assurance activities. Throughout the world, Rigaku continuously promotes partnerships, dialog, and innovation within the global scientific and industrial community.
For further information, contact:
Scott Fess
Product Manager
Applied Rigaku Technologies, Inc.
tel: +1. 512-225-1796
info(at)RigakuEDXRF(dot)com
###