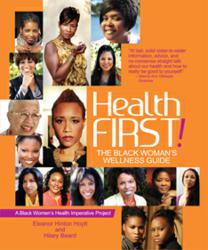 Self-care is imperative.
New York, NY (PRWEB) February 02, 2012
The complex story of Black women's health has for too long been left untold. "Today, as Black women face an unprecedented health crisis, denial and self-neglect are no longer viable options, because when Black women's well-being wanes, it rocks the foundation of the entire community," says the Black Women's Health Imperative. Yet even with the odds stacked against them, when Black women are provided with the tools to succeed, they can triumph.
HEALTH FIRST! The Black Woman's Wellness Guide (SmileyBooks, February 2012, ISBN: 978-1401936952, $27.95, Paperback) provides today's Black woman with a comprehensive guide to her #1 resource: herself. It empowers her with the information she needs to express her full physical, emotional, and spiritual potential.
Written by the president and CEO of the Black Women's Health Imperative, Eleanor Hinton Hoytt, and award-winning health journalist Hilary Beard, this groundbreaking volume connects the dots through honest discussions with health experts and the uncensored stories of real women who've survived and thrived.
Grounded in vital research, the book focuses on prevention and awareness across generations and circumstances—from candid conversations about reproductive health and HIV/AIDS, to frank explorations of Black women's Top 10 Health Risks including heart disease, cancer, obesity, depression, and violence.
"HEALTH FIRST! teaches Black women how to see themselves through new eyes and encourages them to make new choices. It explains why we must place our self-care above all other responsibilities in our lives," says Eleanor Hinton Hoytt. "Decisions made today have consequences tomorrow; that's why we encourage women to think of their lives and health as a lifelong process, not just a series of disconnected events."
"At last, solid sister-to-sister information, advice, and no-nonsense straight talk about our health and how to really be good to ourselves!" says Marcia Ann Gillespie, former editor-in-chief of Essence and Ms. magazines.
Beginning in Washington, DC on February 1, the HEALTH FIRST! 9-City Tour is traveling the country to inspire, encourage, and motivate Black women everywhere to achieve a healthy future.
Join co-authors Eleanor Hinton Hoytt and Hilary Beard in:
Baltimore, MD – February 2
Los Angeles, CA – February 7
Houston, TX – February 9
Philadelphia, PA – February 25-26
New York, NY – February 29
Chicago, IL – March 8
Boston, MA – March 13
Atlanta, GA – March 16
If you wish to book an interview with Eleanor Hinton Hoytt, please contact Leshelle Sargent at lsargent@hayhouse.com or call (646) 484-4963.
For more information about HEALTH FIRST! The Black Woman's Wellness Guide, visit: http://www.BlackWomensHealthFirst.com.
About the Authors:
A tireless advocate for eliminating health disparities among women and communities of color, Eleanor Hinton Hoytt serves as the president and CEO of the Black Women's Health Imperative. Hinton Hoytt produced the groundbreaking book Tomorrow Begins Today: African American Women As We Age for the National Council of Negro Women. She is the proud recipient of the NAACP's Thurgood Marshall Legacy Award, and the Keystone Award for Women's Research Advocacy from the NIH Office on Women's Research.
An award-winning health journalist specializing in health, healthy lifestyle, and personal development, Hilary Beard is the New York Times best-selling author of Friends: A Love Story, 21 Pounds in 21 Days: The Martha's Vineyard Diet Detox, and Venus and Serena: Serving from the Hip. She has been editor-in-chief of Black AIDS Weekly, Real Health, and the National Medical Association's Healthy Living and HealthQuest magazines.
About the Black Women's Imperative:
The Black Women's Health Imperative is the leading organization advancing the health and wellness of our nation's 20 million Black women and girls across the lifespan physically, emotionally, mentally, and spiritually. For more information visit http://www.blackwomenshealth.org.
HEALTH FIRST! The Black Woman's Wellness Guide
By Eleanor Hinton Hoytt and Hilary Beard
Publication date: February 2012
ISBN-13: 978-1401936952
9 x 7.2 x 1.3 inches
399 pages $27.95
Contact Information:
Leshelle Sargent
SmileyBooks
http://www.smileybooks.com
(646) 484-4963
###