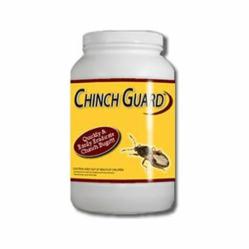 Chinch bugs are very common and tear up yards and plants. Those of us who know what chinch bugs can do will be glad about this new product from Planet Amazing.
(PRWEB) February 01, 2012
There is nothing worse for a great yard or garden than chinch bugs, says Justin Douglas from Planet Amazing: "Chinch bugs are very common and tear up yards and plants. Those of us who know what chinch bugs can do will be glad about this new product from Planet Amazing."
Previously there have been chinch bug products that were poisonous to pets and children, and did work to remove chinch bugs. The new product from Planet Amazing removes chinch bugs with zero use of previous harmful toxins. Chinch Guard chinch bug remover from Planet Amazing is 100% safe for the environment, kids and pets.
Justin Douglas of Planet Amazing says that the new chinch bug product uses the microcrystals technology from Planet Amazing. "Chinch Guard works unlike any other product on the market today," he says. "Chinch bugs spend the winter as adults in partially protected areas under shrubs or around foundations of houses. As the weather warms in the spring, adults move into open areas, where females begin laying eggs. Fifteen to 20 eggs per day are deposited for two to three weeks. The eggs hatch in one to two weeks, and the nymphs begin to suck the juices from host plants. It takes 30-90 days to reach adulthood. There are two generations per year, with a partial third generation in unusually warm summers. There is considerable overlap of generations, and all stages can be found during the summer."
Mr. Douglas says that with the new product there are no harmful pesticides, no damage to the lawn, no breeding of chinch bugs, and no residue from the new Planet Amazing Chinch Bug product. "It works in a way that is safe to the environment, kids and pets. To chinch bugs, Chinch Guard is a deadly powder with microscopic jagged edges. When chinch bugs eat Chinch Guard, the specially formulated razor-sharp edges act like tiny knives slashing, slicing, and shredding their insides. Because Chinch Guard kills the chinch bugs physically, instead of chemically, they cannot become immune to it, which is what happens with pesticides that use toxic poison. Although Chinch Guard is lethal to Chinch Bugs, it is completely safe for humans and pets because the sharp edges are too tiny to harm anything other than chinch bugs. In fact, farmers have used the ingredients in Chinch Guard for years. Our revolutionary no-breed formula ensures that the chinch bug's offspring and eggs do not survive, so you will not have to fight a whole new generation of chinch bugs in the weeks to come. When chinch bugs pick up Chinch Guard, they are sealing their doom. Chinch Guard begins to work immediately. What's more impressive is that as other chinch bugs come into contact with each other, they pass it along killing them more quickly."
For more information on Chinch Guard, visit the website at http://www.chinchguard.com.
About Planet Amazing
Planet Amazing creates family-friendly and environmentally safe products. Planet Amazing sets high standards for their operating companies in the area of environmental responsibility — striving for performance that does not merely comply with regulations but reduces the environmental impact. They commit to take care of our planet and preserve its beauty, resources and strength for future generations. Planet Amazing embraces research and science - bringing innovative ideas, products and services to advance the lives and well-being of people. Employees of the Planet Amazing Family of Companies work with its partners in order to touch the lives of people every day, throughout the world.
###