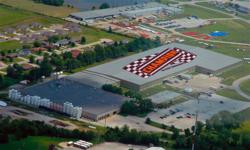 Champion Oil Rebate Offer Increases Business for Racing and Performance Retailers
Clinton, MO (PRWEB) February 05, 2012
The Champion rebate offer, detailed and downloadable at http://www.championsusechampion.com, will run through March 15th , 2012.
Champion Racing Motor Oils products contain Champion's proprietary TVS® (Thermal Viscosity Stabilizer), special lubricity modifiers, and a premium level of anti-wear additives which includes a high quantity of ZDDP. These additives are proven to meet the lubrication demands of competition engines, creating a tough film strength, which controls wear and provides more horsepower and torque in Dynamometer testing.
Champion Racing Motor Oils are suitable for use in all competition and race engines, especially those using flat tappet and/or roller cams operating at high RPMs and requiring high-pressure (stiff) valve springs. These new racing oils are offered in a popular range of multi-viscosity SAE grades and are formulated to meet the demands of most of today's high performance race engines.
Champion Brands Blue Flame® Performance Diesel Motor Oils are formulated with workhorse performance additives, superior protection, advanced polymer technology, and high TBN, supported by a carrier blend of synthetic and conventional base fluids. In addition, Champion Brands Blue Flame® Diesel Motor Oil delivers unmatched high temperature film strength and lubricity protection, has the muscle to combat oil shear, maximizes and sustains cylinder compression, and is proven to increase engine horse power and torque.
The Performance & Racing Industry Show (PRI), which attracted this year over 70,000 members of the racing industry from 65 countries, is the gateway to the worldwide racing marketplace. More than 451,000 people compete each year in auto races held at over 1,300 racetracks across the United States! They'll spend whatever it takes to reach victory lane. Just as important, brand names such as Champion Oil, established and proven in auto racing get that all-important, word-of-mouth buzz in the performance circles.
About the company: Champion Brands, LLC, is a globally recognized industry leader in specialty lubricants for over 55 years. Champion Brands, LLC also produces and blends over 300 products including fuel, oil, engine additives, and lubricants for the automotive, heavy truck, agricultural, industrial, and specialty markets. For more information about the Champion Rebate Offer contact your nearest Champion distributor, or call Champion at 800-821-5693 or 660-885-8151. Champion Brands, LLC; 1001 Golden Drive, Clinton, MO, or go to http://ChampionsUseChampion.com.
###