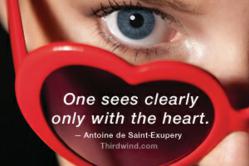 Valentine's is a once-a-year reminder of the important role passion plays in achieving true success in our everyday lives.
Carmel, CA (PRWEB) February 09, 2012
According to Robert Michael Fried, "Valentine's is a once-a-year reminder of the important role passion plays in achieving true success in our everyday lives. It is passion that provides the spark to achieve our true calling or purpose in life. Passion provides the pilot light that once ignited to helps us to set the world on fire." Dante once proclaimed, "A mighty flame followeth a tiny spark." Thirdwind.com is showcasing a new book by bestselling author Robert Michael Field. The book, "Igniting Your True Purpose and Passion," will keep the Valentine's embers burning all year.
In his classic book "The Little Prince," author Antoine de Saint-Exupéry states, "One sees clearly only with the heart." Honoré de Balzac sums up passion with these words: "Passion is the universal humanity. Without it, religion, history, romance, and art would be useless."
Guy Kawasaki in his thought-provoking book, Enchantment, urges people to pursue and project those passions to the outside world. He contends that a person's passion should be front and center - not on the back burner. "Tell the world," extols Kawasaki, "that you love cooking, hockey, NASCAR, or knitting – whatever it is – because pursuing your passion makes you more interesting, and interesting people are enchanting."
Passion creates a blur between work and play. According to Robert Michael Fried, "When you're truly passionate about what you do, time seems to fly by quickly. You're not constantly watching the clock. You don't mind working extra hours because your passion provides you with sustainable energy."
Robert Michael Fried offers these thought starters you can utilize to help discover and ignite your passion:
1. Know what you do best. You need to be candid with yourself here. You might even need to brag a bit. What is it that you do as well or better than most? It could range from baking an apple pie, to dancing up a storm, to making a compelling business presentation, to serving your community, to caring for others, to being a passionate lover. As Bruce Lee once so perfectly suggested, "Love is like a friendship caught on fire!"
2. Remember the joy. Think about the times in your life that you were filled with unbridled joy. What was the circumstance? What was the setting? What special event resonated with your being? Was it the birth of a baby? When you got that long-deserved promotion? When you aced that test in school? When your favorite sports team finally won a championship? (Think Boston Red Sox in 2004 after 86 years of waiting to win a World Series Championship.). When you were in the garden tending to your roses?
3. Recognize when time flies by. Define what you are normally doing when you lose total track of time. Are you watching a great movie or reading a wonderful book? Are you writing? Are you painting? Are you working on a meaningful project at work? Are you making Eggplant Parmesan? Are you playing with your kids, or helping them with their homework? Remember when you don't watch the clock you are likely to be passionately engrossed in what you are doing.
4. Get in touch with your childhood dreams. Remember when you were a kid and filled with childlike wonderment? What did you dream about? Did you dream about becoming a dancer or a novelist or a gourmet chef or an inventor or an entrepreneur? Or maybe you just want to be a great parent? Sometimes it helps to go back so you can move forward and reignite the passion within you.
5. Narrow cast your passion list. Make a list of your passions and hone in on one or two things that ignite your fire and add fuel to your positive energy. You might use a rating system: one being the highest, five being the lowest. Remember, passion doesn't sit well on the back burner. Make quality time to pursue your passion.
Robert Michael Fried is the best selling author of "Igniting Your True Purpose and Passion". He is a marketing executive who has guided the strategic direction for companies like Motorola, Nautilus, bebe eyewear, and several emerging Silicon Valley firms. He is co-founder of Thirdwind.com, a company dedicated to helping people achieve true success by making meaning as well as money.
Contact:
Wandia Chiuri, Director of Social Networking
wandia(at)thirdwind(dot)com
(805) 295-0112
http://thirdwind.com/
###