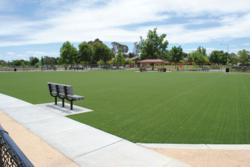 We did extensive research into the best surface for the Central Park Dog Park…We felt K9Grass allowed us to meet our goals, and cut down on costly maintenance. We have received excellent feedback from park users about the K9Grass.
Albuquerque, NM (PRWEB) February 09, 2012
Dogs in Fremont, Calif., have spent the past few months exercising, playing, and socializing at a new 40,000 square foot dog park that the city installed this past summer. While Central Park Dog Park is significantly larger than most city dog parks, that's not the most unique thing about it. When other dog parks are closing down during the winter months for maintenance, or sending dogs back to their cars covered in dirt and mud, Central Park Dog Park will remain open, and mud-free, regardless of the weather.
The reason the new park is immune to weather closures and muddy conditions is due to the unique surface called K9Grass that was chosen by associate landscape architect Mark Mennucci. "We did extensive research into the best surface for the Central Park Dog Park, including site visits to other dog parks in the Bay Area, to see how other synthetic turf products were performing," said Mennucci. "We wanted to avoid muddy, unsanitary conditions, improve permeability, reduce heavy odors, and maximize the time that the park would be open to the community. We felt K9Grass allowed us to meet our goals, and cut down on costly maintenance. We have received excellent feedback from park users about the K9Grass."
K9Grass is an artificial grass designed specifically for dogs by ForeverLawn, the leading synthetic grass company. ForeverLawn developed the specifically-engineered grass to solve the many problems that dog use brings to common pet surfaces such as natural grass and gravel. "Dogs are hard on grass," said K9Grass brand manager Ken Karmie. "Running, playing, digging, and doing their business on natural grass often results in dead spots in the grass, holes in the ground, and other problems. When you multiply this by hundreds of dogs in a dog park setting, you end up with a dusty mess that turns to mud as soon as it rains or snows."
K9Grass by ForeverLawn provides a clean, safe, durable solution for dog park developers that allows the parks to stay open year round, in all types of weather. Several key features are responsible for the durability and weather resistance of K9Grass that address drainage, waste management, and cleanliness. These features offer superior alternatives to other surfacing options such as natural grass, concrete, or gravel. And unlike these common park surfaces,
K9Grass can be installed both indoors and out.
Immediate and effective drainage is critical in areas where many dogs are depositing liquid waste. K9Grass offers an exclusive knitted flow-through backing for immediate drainage. This unique backing allows liquid waste, as well as rain, to drain through effectively, maximizing cleanliness and weather resistance.
Managing solid dog waste effectively is also key to keeping a dog park clean, sanitary, and inviting for park users. K9Grass has been specifically engineered with a short, dense blade structure that simplifies the identification and removal of solid waste. K9Grass also provides an infill-free system to avoid trapping waste in the grass. Most artificial grass products require infill material such as sand or rubber to support the blades, which may lead to odor and unsanitary conditions. Not K9Grass. The dog-focused design of K9Grass features a short, dense blade structure with a textured thatch zone that requires no infill, greatly improving the cleanliness of the park.
For added protection, K9Grass provides antimicrobial agents built into the blades.
While more and more dog park developers are choosing K9Grass for their projects, the product is also available for veterinary facilities, backyard dog runs, dog boarding facilities, and even indoor dog facilities. The K9Grass patent-pending indoor flushing system provides an effective way to create an indoor area for dogs with soft, attractive K9Grass.
In addition to the Fremont Central Park Dog Park, many dog parks across the country are choosing K9Grass for its weather resistance, cleanliness, durability, and beauty. Los Gatos Creek Dog Park in Campbell, Calif., took an uninviting grassless area and replaced it with K9Grass, making it a beautiful, fully-functional dog park. Curtis Hixon Waterfront Park in downtown Tampa, Fla., is a new development that is considered the crown jewel of the city's urban parks. The dog park features K9Grass, which integrates perfectly with the riverwalk, the Glazer Children's Museum, the Tampa Museum of Art and downtown, giving dogs a safe, green place to exercise and play. For details about these and other dog parks utilizing K9Grass, visit http://www.K9Grass.com/parks.
About ForeverLawn
ForeverLawn provides innovative synthetic grass products to create better landscapes worldwide. In areas where real grass is difficult to grow or maintain—due to high traffic or poor conditions—ForeverLawn offers a natural-looking alternative that is beautiful, functional, and durable. In addition to its landscape lines, ForeverLawn also offers specialty products including SplashGrass, K9Grass, SportsGrass, Playground Grass, and GolfGreens. ForeverLawn—Grass without limits. http://www.foreverlawn.com.
###