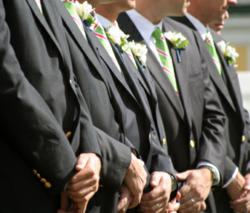 Bows-n-ties.com is fast becoming the groomsman's choice for finding matching neckties to the bridesmaid's dress color.
San Francisco, CA (PRWEB) February 02, 2012
Online bow and neck tie retailer Bows-n-Ties.com will vastly expand its collection of wedding ties this February to include over 3,000 bow and neck ties, thereby positioning itself as experts in the field of men's wedding accessories. The site has sorted its entire bow and neck tie inventory into 200 different wedding colors, making it simple for brides to find shades as specific as fern, canary, peacock, and many more. Bows-n-Ties.com already carries bow ties and neckties to complement every color bridesmaid dress in the David's Bridal catalog and will soon add ties that go well with all the dresses in the J. Crew and Alfred Angelo catalogs. This soon coming addition will make Bows-n-Ties.com the ultimate Internet destination for wedding ties and other groomsmen accessories such as pocket squares, cufflinks, and tie bars.
Visitors to Bows-n-Ties.com's special new wedding planning page can simply click on a drop-down menu and choose any of the three premier bridal brands and they will instantly see the brand's complete swatch catalog. Clicking on any swatch color redirects users to a Bows-n-Ties.com page with all matching tie options. The site also offers suggestions on how to best accent each color with other popular wedding shades. The wedding planning page makes it faster and easier than ever to find men's accessories that coordinate with the most popular bridesmaids dress colors.
"Brides demanded it and we listened. It was an arduous and time-consuming process, but our team of color matching professionals compared over 200 swatches from David's Bridal, J. Crew and Alfred Angelo to all three thousand ties in our inventory. Now, when a customer clicks on a color swatch, only true, hand-selected suggestions are displayed. We just simplified the entire wedding color coordination process, not just for busy brides, but for grooms and groomsmen too," said Bows-n-Ties.com founder Hendrik Pohl. "Our new wedding planning page is so user-friendly, even the ring bearer can use it to come up with the perfect color scheme."
"There are 2.4 million weddings in the United States each year with over 10,000,000 groomsmen," added Pohl. "Bows-n-ties.com is fast becoming the groomsman's choice for finding matching neckties to the bridesmaid's dress color."
In addition to regular sized neckties in all popular wedding colors, Bows-n-Ties.com also expanding its collection of extra long ties made for the big and tall groomsmen, as well as its assortment of kids ties – neckties especially made for the ring bearer. Bows-n-Ties.com expects to have its entire wedding collection uploaded by the middle of February 2012 – just in time for the wedding season.
###