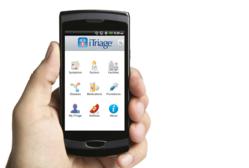 Patients are relying on their smartphones more than ever to find information quickly
Oklahoma City, OK and Denver, CO (PRWEB) February 06, 2012
First Med Urgent Care today announced a partnership with iTriage® – a one-stop healthcare app that lets users instantly find information about specific medical conditions and locate nearby healthcare providers from any location. With U.S. smartphone ownership now topping 40%, according to a Pew Internet survey, the partnership enables First Med Urgent Care to connect with smartphone-toting patients when they have an immediate medical need.
Launching the iTriage application for all of their Oklahoma City metro area facilities allows First Med Urgent Care to provide patients in the community with the resources to quickly make the most informed decision about a medical condition when unexpected injuries and illnesses occur. iTriage also lets users:

Find specific First Med Urgent Care locations with turn-by-turn directions using GPS capabilities, services provided, hours of operation, and additional clinic information.
Learn about possible causes and treatment options
Obtain medication information for treatment of a specific condition
"Patients are relying on their smartphones more than ever to find information quickly," said Todd Lechtenberger, First Med Urgent Care CEO. "Our partnership with iTriage lets us connect with the residents and visitors in our community at their exact time of need."
iTriage is available as a free download for iPhone® and Android™ phones, and is also accessible from any Internet-enabled device at http://www.iTriageHealth.com.
About First Med Urgent Care
First Med Urgent Care is the leading urgent care company in the Oklahoma City metro area that provides walk-in medical treatment to individuals, families and employers. Our four (4) locations in the Oklahoma City and Edmond area are open 7 days a week from 8:00am – 7:30pm with no appointment necessary. Our board certified physicians and PAs are always on staff to provide the highest level of care possible for a wide range of non-emergency medical problems including the flu, sore throats, ear infections, minor burns, cuts, scrapes, and other minor injuries. All of our clinics are equipped with on-site laboratories and digital x-ray. For more information, please visit http://www.FirstMedOK.com.
About iTriage, LLC
Headquartered in Denver, CO, iTriage, LLC is a global healthcare technology company founded in 2008 by two emergency medicine physicians. The company's mobile platform and application, iTriage, offers a proprietary Symptom-to-Provider™ pathway that empowers patients to make better healthcare decisions. iTriage helps people answer the two most common medical questions: "What could be wrong?" and "Where should I go for treatment?" Millions of consumers around the globe have downloaded the free iTriage mobile app on their iPhone and Android devices, and thousands of healthcare providers use iTriage to reach and communicate critical facility and service information to patients. For more information, please visit http://about.iTriageHealth.com.
###