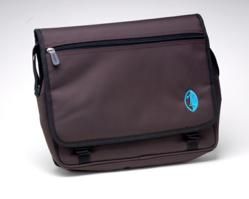 the Kucha iPad Messenger Bag may be the most flexible bag on the market for iPad users.
Portland, Oregon (PRWEB) February 03, 2012
Named after the aboriginal word for "kangaroo" the Kucha iPad Messenger Bag may be the most flexible bag on the market for iPad users, and certainly for musicians or djs wanting both protection and security to transport their iPad with confidence.
The Kucha iPad Messenger Bag was specifically tailored to hold an iPad pre-mounted in the Alesis I/O Dock. The bag has a dedicated microphone compartment using Velcro dividers for additional flexibility, with plenty of room for cables and accessories. There is even a pouch that is the perfect size for the Korg Nano keyboard controller.
There is also a protective iPad pouch for transport of an iPad without the AlesisI/O Dock. When used this way there is plenty of room in the compartment to hold an iPad mic stand adapter.. The bag has an extra long strap so that it can be worn across the chest. Of course it also works great for a small 13" laptop and your iPad combo!
The Kucha iPad Messenger has many user friendly details that separates it from other solutions on the market. Lockable zippers for security, large net pocket to hold your cables, pouch pockets for your iPad and micro keyboard, and the flexibility of a Velcro removable microphone compartment. The bags are made of weather-resistant 1680D poly-nylon available in five colors; and your iPad mounted in the Alesis I/O Dock nestles into thick padding that provides just the right amount of pampering for your gear.
Namba Gear products are available via musical instrument & dj retailers, Amazon.com, Best Buy online, as well as through Namba Gear's online webstore.
About Namba Gear:
Namba Gear is a Portland, Oregon based bag and accessories company that designs and produces premium, high performance transport solutions for the working musician. The essence of the brand is defined by the working musicians and dj's at Namba Gear who are dedicated to creating and delivering exceptional carrying solutions that will stand up to the unique and rigorous workload of professional musicians.
###