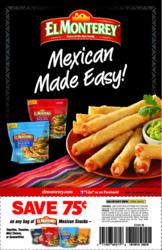 Our consumer promotions continue to create excitement as they build awareness of our signature El Monterey brand.
Bryce Ruiz
President/CEO Ruiz Foods
Dinuba, Ca. (PRWEB) February 02, 2012
El Monterey reached out to consumers with a January full-page FSI brand-awareness promotion to target Superbowl XLVI. The nationally distributed FSI displays a discount coupon on any bag of El Monterey Mexican Snacks and is supported by in-store shelf talkers. In tandem with the FSI, El Monterey's 250,500 plus Facebook fans also received a discount coupon on any product in the El Monterey Snack Bag line.
The popular El Monterey Mexican Snack line features a recloseable bag offering today's busy consumer extra convenience. The 14 varieties included in the El Monterey Snack Bag line are:
Chicken and Monterey Jack Cheese Mini Tacos (NEW)
Beef and Cheddar Cheese Mini Tacos (NEW)
Steak & Cheese Flour Taquitos
Chicken & Cheese Flour Taquitos
Southwest Chicken & Cheese Flour Taquitos
Taco Beef and Cheese Flour Taquitos
Chicken and Cheese Mini Chimis
Nacho Cheese and Beef Mini Chimis
Grilled Chicken and 3 Cheese Quesadillas
Eggs, Bacon & Cheese Breakfast Taquitos
Chicken Tamales
Beef Tamales
Shredded Steak Corn Taquitos
Chicken Corn Taquitos
"Our consumer promotions continue to create excitement as they build awareness of our signature El Monterey brand," said Bryce Ruiz, President and CEO, Ruiz Food Products, Inc. "And our research tells us that the consumer continues to look for foods that are high in quality, great tasting, easy and convenient to prepare while offering a good value. In fact, when we review Nielsen's Mexican Entrees Category for December 31, 2011, our El Monterey brand continues to be the #1 brand of frozen Mexican food with a 12.1 percent increase in dollars (12-weeks) and .9 percent increase in dollars (52-weeks)."
The El Monterey Snack Bag line garners consumer attention by offering a colorful package design, variety in product types and flavors and a long-standing reputation for quality, value and convenience. Products use real cheeses, quality proteins, fresh vegetables and spices that fill fresh flour or corn tortillas made exclusively in the one-site bakery.
Adds Ruiz, "With a tighter dollar, people continue to be more vocal about their intention to invite friends over rather than go out … scheduling more casual parties. At the same time, people don't intend to sacrifice time. Lives are too busy. They still want the convenience of spending as little time in the kitchen, preferring to enjoy guests during the eating occasion itself instead of during its preparation. Our entire El Monterey Mexican Snack Bag line is perfect for such occasions and everyone seems to have a favorite … or two."
ABOUT RUIZ FOODS
Ruiz Foods is a privately owned corporation with corporate offices in Dinuba, Calif. Third-generation Bryce Ruiz, the elder son, is president and CEO. Kim Ruiz Beck, the elder daughter of Co-Founder and Chairman Emeritus, Fred Ruiz, is chairman.
Ruiz Foods is dedicated to premium quality, authentically prepared frozen foods selling to all channels of distribution: retail, convenience store, clubs, vending, industrial and foodservice. The Tornados® brand, introduced just eight years ago, has revolutionized the use of the roller grill in convenience stores. The El Monterey® brand is the market leader within the frozen Mexican food category and the No. 1 brand of frozen Mexican food in the U.S. Ruiz Foods employs over 2,500 Team Members in three facilities located in the U.S.
###