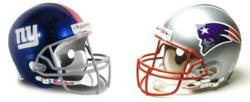 New York, NY (PRWEB) February 02, 2012
Regardless of where your team loyalties lie, February 5th will be a Super Bowl Sunday to remember, with a game day-inspired brunch at Loews Hotels. Chefs from Loews Hotels will kick-off football's biggest day with special culinary creations inspired by the teams' hometowns, New York and New England.
Participating Loews Hotels will get into the spirit with dishes inspired by the rival teams, such as:

The rivalry will heat up down south at the Loews New Orleans Hotel with the Coney Island Hot Dog vs. Maine Lobster Roll as part of the main course.
Loews Denver Hotel will celebrate game day with dueling drinks: try a Brooklyn Lager or Sam Adams, or toast the winner with a Manhattan or Boston Cocktail.
NY inspired Reuben sliders will be pitted against New England Clam Chowder served in a sour dough bowl at Loews Coronado Bay.
At the Loews Regency Hotel, Boston and New York face-off with the New York Cheesecake vs. Boston Cream Pie for dessert.
Take your Sunday brunch the full ten yards on Super Bowl Sunday with Loews' Tasty Credits promotion: receive $25 in food and beverage credit for every night you stay, for up to seven nights.
For more information or to arrange your stay, call 1-800-23-LOEWS or visit http://www.loewshotels.com.
*Tasty Credits available at participating Loews Hotels through April 30, 2012, based on Loews Best Rate.
About Loews Hotels & Resorts
Headquartered in New York City, Loews Hotels &Resorts owns and/or operates 18 hotels and resorts in the U.S. and Canada, including its newest, the 414-room Loews Atlanta Hotel that opened April 1, 2010. Located in major city centers and resort destinations from coast to coast, the Loews portfolio features one-of-a-kind properties that go beyond Four Diamond standards to delight guests with a supremely comfortable, uniquely local and vibrant travel experience. Loews boasts some of the industry's most innovative and successful travel programs, including Loews Loves Kids for families and Loews Loves Pets for discerning animals on the road. For reservations or more information on Loews Hotels, call 1-800-23-LOEWS or check http://www.loewshotels.com.
Like Loews Hotels & Resorts on Facebook: http://www.facebook.com/LoewsHotels
Follow Loews Hotels & Resorts on Twitter: http://www.twitter.com/loews_hotels
Watch Loews Hotels & Resorts on YouTube: http://www.youtube.com/LoewsHotels
Contact:
Loews Hotels
Lark-Marie Anton
(212) 521-2779
lanton(at)loewshotels(dot)com
Hawkins International Public Relations
Emily Easter
(212) 255-6541
emily(at)hawkpr(dot)com
###