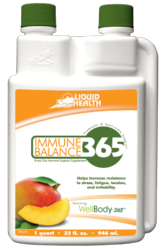 Immune Balance 365 has six essential functions: offers nutrient absorption, provides antioxidants, eases the stress/cortisol balance, and improves Intestinal health.
Murrieta, CA (PRWEB) February 03, 2012
Liquid Vitamins: The Best Way for the body to extract nutrients through digestion
Liquid Health Inc., just launched a carefully balanced liquid vitamin that gives the body a powerful immune boost if taken on a daily basis. This liquid vitamin contains ingredients that have been scientifically tested to improve overall health, fight infections, and allow the body to handle stress more effectively. This new supplement is called Immune Balance 365, it brings several natural immune boosters, normally found separately, together into one single supplement.
Health commentator David Rigby says "Immune Balance 365 has six essential functions: offers nutrient absorption, provides antioxidants, eases the stress/cortisol balance, resilience to fatigue, and can improve intestinal health."
According to his analysis, studies show that lowered levels of cortisol in the body can help relieve stress. Higher cortisol levels, however, can be correlated to fatigue, belly fat, and a weakened immune system. Thus, taking a natural supplement to fight these conditions can help the body reduce stress levels and ease the immune system to function properly.
Because people can get sick anytime, not just in the winter, Immune Balance 365 is designed to help people stay healthy year in and year out. Such year round protection requires a supplement to be safe for daily use. Unlike antibiotics which are taken during serious illness, the nutrients found in Immune Balance are safe for daily use. In addition, these essential nutrients and vitamins such as C, D, and E, can help our protective barriers (ie. skin, lung surfaces) to be better fortified by healthy tissue and protective enzymes.
Liquid Health only makes liquid vitamins and other supplements that are effective and of the highest quality. It has a reputation that is graded high among the customers who use their products. Furthermore, the liquid vitamin contains no artificial colors or flavors, sugar, starch, gluten, yeast, or milk derivatives. Made from soy, it is 100 percent vegetarian.
Why Liquid Vitamins
Liquid vitamins are not just a solution for people who have a problem swallowing pills or trouble digesting tablets. By taking vitamins in a liquid form, the body takes in more of the vitamins and natural supplements in the liquid than in a tablet. Customers notice a difference and for this reason Liquid Health has developed over 30 different formulas, including groundbreaking supplements for pets. Liquid Health is known as a leader in natural liquid vitamin industry because they offer the highest quality ingredients, guaranteed levels of nutrients and have more than 30 products for people, animals.
# # #