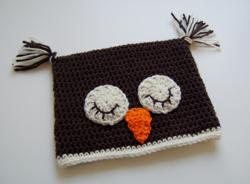 Owls have gotten really hot in both fabric and paper. They're very 'in' right now.
Portland, Ore. (PRWEB) February 01, 2012
The Snowy Owl irruption is taking the nation by storm, with an unusually large numbers of the large white bird spotted all over the U.S. The popularity of owls is increasing, with hand-made owl "irruptions" happening on sites like Hyena Cart, which houses more than 1,000 individually owned online stores that offer a broad spectrum of hand-made products for the family.
From hats, to shirts, to cloth diapers, knitted items, greeting cards and more, Hyena Cart is home to dozens of stores selling more than 200 owl-related hand-made items at any given time.
The white, two-foot-tall birds, which live in the Arctic the rest of the year, are known to fly south in large numbers every few winters in what is known as an irruption. But this year, the numbers are unusually high, said Denver Holt, director of the Owl Research Institute in Charlo, Mont.
Owls have been seen from Boston, to the Great Lakes, the Ohio River Valley, Kansas, Vancouver and Seattle.
Crystal Allen, of Vancouver, British Columbia, started making owl-related apparel items several years ago, and they have become some of the most popular products on her Hyena Cart store.
Inspired by her daughter's favorite book, "Little Hoot," Allen said that customers love the Lilikoi Lane snuggling-owl shirt appliqued with corduroy.
The owl items are selling so well, she recently added owl ponytail holders.
Beth Caton of Shelbyville, Mich. started making owl items about 20 years ago for a local bird sanctuary, creating t-shirts and tote bags for kids to take home after school tours.
She owns Irish Girl Creations on Hyena Cart, selling a hand-made utility bag with an ink-style owl embroidery on the flap is one of her most popular items.
Jennifer Lentz of Oahu, Hawaii makes an owl soap that she said is inspired by late summer nights.
"The colors of the soap resemble the night sky, along with a sweet outdoor fragrance," she said.
Shannon Gilbride of Omaha, Neb., owner of Gillyweeds, has loved owls since the first Harry Potter book. She crochets owl hats and makes owl cards, selling them in her Hyena Cart store.
"Owls have gotten really 'hot' in both fabric and paper," she said. "They're very 'in' right now."
About Hyena Cart
Hyena Cart started as a shopping cart for Karen Lee's Kool Sheep Soakers. From there, it has grown to incorporate more than 1,000 active sellers offering a variety of natural products. Most of the sellers are moms, known as "mompreneurs," who operate their own online businesses using the Hyena Cart platform to facilitate online shopping. The most popular seller categories include cloth diapers, clothing, hand-knit items, hand-dyed yarn and toys.
Hyena Cart offers a number of different ways to approach the shopping experience. Shoppers can browse categories such as Art & Design, Bath and Body, Congos, Home Accessories, Household & Laundry, Pet Items, Sweet Treats, Upcycled Items and many more. Within each category, seller links are listed alphabetically, enabling users to browse hundreds of sellers for the particular items they need. In addition to categorical browsing, site visitors can also explore featured shops, shopper favorites, new items listed on the stocking calendar, and listings shared by other users, known as random spots.
For more information about Hyena Cart, visit http://www.hyenacart.com.
###