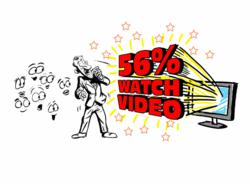 Ydraw's Videos convert more prospects, maintains attention, can create more opt-ins and explain your message in such a way that will be remembered
Saint George, UT (PRWEB) February 02, 2012
Video Scribing is the next big thing, and YouTube is the second biggest search engine in the world after Google! That is why every company wants to make sure that interested consumers can easily search and find their videos in a variety of ways.
(1) Video Scribing: This fun and exciting breakthrough gives viewers something to watch that many have never seen before. Whiteboard animation keeps viewers actively interested in what is being created on the screen in front of them. Video Scribing never gets old, even after the 100th time a viewer might watch it. Every time a Video Scribing Video is watched, something new can be found, something maybe not seen before. Video Scribing Videos never get old.
(2) Annotations: Annotations have shown to help users grow subscribers. These annotations can be used in the most creative ways to quickly drive new subscribers to your channels and increase the amount of traffic associated with your name.
(3) Tags and Descriptions: Take special care when filling out the description of your video and giving it a title, adding as many tags that seem relevant as you possibly can.
(4) Thumbnails: These are little images that a viewer sees before they click through to a video. Make sure the thumbnail to your video is enticing and interesting, grabbing viewer's attention, because people will have hundreds of results to choose from when searching for a video, and every person wants a viewer to pick their video.
(5) Share: It is important to embed every video, put it on blog sites, websites, and social media profiles like Facebook and Twitter. Link the video in every way possible. Get any friends that might be willing to get the WOM out about a company video to tweet and like it.
(6) Leave Responses: Leave comments and encourage others to leave comments on company videos to get the word out about featured products and services. This creates hype around a desired video, and helps increase searches to a video.
There is no better way to spread the word about a business or company than making a great video scribing video. Visit Ydraw for some amazing examples of how to keep video scribing videos sweet, simple, exciting, and compelling. Join the rest of the growing businesses who are ahead of the game and already catching onto the breakthrough. Get started and create your amazing video scribing video today.
Alecsy Christensen
Ydraw
###