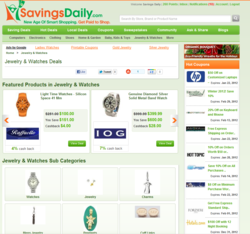 With SavingsDaily.com it is easy to generate great ideas, buy the perfect gift, and obtain significant discounts all in one place.
(PRWEB) February 02, 2012
Valentine's Day is sort of a double edged sword. Yes, it can be a beautiful and romantic time, but it can also be an icy disaster when someone forget to make that important extra effort. Love it or hate it, these are the facts. Ignoring this holiday is risky. Seeing as it is already February, now would be an excellent time to formulate a plan.
Usually, the only difference between a lovely holiday and a night on the sofa is a tiny bit of forethought. It is all too easy to get caught up in other things until BAM! the day has arrived. Now the only options are a desperate trip to the jewelry store where they can charge whatever they want or a tired old box of chocolates from the pharmacy down the street. The days do slip by, so it is better to take action now.
Luckily, SavingsDaily.com makes it easy this year with luxury Valentine's Day gift ideas without breaking the bank. SavingsDaily.com offers loads of great gift ideas, jewelry, watches and cosmetics, an opportunity to communicate with others in a similar situation, and some of the best bargains anywhere. Even for people who are time-challenged, financially strapped, or desperately un-romantic, there has never been a better way to take care of Valentine's Day arrangements quickly and affordably. Now it is easy to see what other people are doing and start generating ideas. Instead of disappointment this year, with SavingsDaily.com everyone can experience that soft-eyed smile that comes from receiving the perfect gift.
What could be better than creating a warm holiday atmosphere while saving money this year? Instead of giving that half-hearted box of chocolates again, why not find a gift that really says something? SavingsDaily.com makes it easy to get creative. Within just a few minutes, anyone can start having those ah-ha moments as they scan through member comments and gift ideas. Don't despair! Help is here. Now it is easy to generate great ideas, buy the perfect gift, and obtain significant discounts all in one place.
Valentine's Day can be a beautiful thing or a disappointing affair. Instead of putting it off and risking disaster, take a minute right now to visit SavingsDaily.com in order to hatch a romantic plan. This is a great way to reduce stress this month and replace it with the heart-warming sensation that the holiday is meant to inspire.
SavingsDaily.com is a social shopping site that offers online deals, coupons, promotions and product reviews to its members and visitors. SavingsDaily.com is a fast growing shopping community where members help each other finding best deals and coupons from hundreds stores and brands in one place. For details, please visit SavingsDaily.com, become fan on Facebook at http://www.facebook.com/SavingsDaily and follow on Twitter at http://twitter.com/sddly
# # #