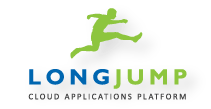 "It was great to be a part of an event where the primary focus of the event was truly about the education of CIOs and future CIOs, instead of selling sponsorship opportunities to vendors."

Barry Phillips, CMO & SVP of Sales Wanova
Chicago, IL (PRWEB) February 02, 2012
The CIOsynergy team confirmed today LongJump as official sponsor of directIT Chicago, which will take place at the Trump International Hotel & Tower in Chicago on February 9, 2012. LongJump platform software creates process-driven web applications that improve business productivity by automating business workflows, making data actionable, enabling social collaboration, mobilizing information access and empowering end-user customizations.
directIT Chicago is a strategic event where we welcome the Office of the CIO to share strategies, successes, failures, and lessons learned as they are an important part of the continual education of successful IT leaders. The role of the CIO requires an effective leadership model that will incubate a team of forward thinking innovators who can effectively leverage technology to support the goals of the business and its many facets. Who else better to guide these aspiring leaders than world renowned CEOs to the likes of Steve Forbes, Jimmy Wales, Howard Putnam, and Jeff Ma; all of whom have shared their recipes of leadership to 100's of CIOs and IT leaders through CIOsynergy.
Keynote Terry Jones founder of Travelocity.com, chairman of Kayak.com, and Chief information Officer at American Airlines/Sabre, has a proven track record of leading companies whose innovations have changed an industry. For the last five years through his consulting practice, as a board member and as a venture capitalist, Terry Jones has been helping companies use the tools and techniques he's developed to keep up with this rapidly changing world. Terry Jones will challenge the audience to think outside the box, and the attendees will undoubtedly walk away with inspired ideas and concrete action items to implement in their companies.
For more information about or to participate in directIT Chicago visit http://LongJump.ciosynergy.com, or contact Carlos Mendez, Event Director, at carlosm(at)ciosynergy(dot)com or 1.877.532.3480 ext. 411.
About CIOsynergy
CIOsynergy was founded to provide a unique platform to bring together the true visionaries of enterprise IT leadership. These are the 'thought leaders' that instigate both change and stability within the organizations they serve.
About LongJump
Using LongJump, IT organizations achieve great agility, 5x faster project delivery and lower TCO.

CIOs are reducing the time and cost of delivering custom apps from months to weeks by visually creating enterprise apps (no coding required).
Enterprise Architects are aligning business and technology strategy and provide business users with reporting, analytics, and customization capabilities.
System Architects and IT developers are deploying light-weight applications cost effectively, utilizing enterprise security with centralized control of IT.
Companies like Cisco, Ericsson, AT&T, HP are using the LongJump platform to increase productivity and empower business users.
###