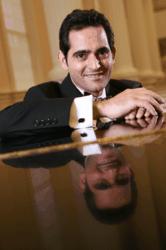 Sacramento, CA (PRWEB) February 02, 2012
The Syrian American Council (SAC), Northern California chapter, will hold a town hall meeting and fundraising dinner to benefit the victims of the Assad regime's brutal crackdown on protesters in Syria. The United Nations Security Council is currently holding meetings in an attempt to adopt a resolution against the Assad regime with continued opposition from Russia, which maintains a veto power. According to the Local Coordination Committees, more than 7,000 people have been reportedly killed since the beginning of the uprising eleven months ago.
The event will feature a performance by the world-renowned Syrian composer and pianist Malek Jandali. Inspired by the democratic revolutions taking place in the Arab world, Jandali composed a song entitled "Watani Ana: I am my homeland" in April 2011. Days after performing the song at a rally in Washington, DC, the home of Jandali's elderly parents in Homs was raided by armed Syrian security officers. The officers ransacked the home and beat Jandali's 66-year old mother and 73-year old father.
SEE: Musician: Syrian security raids family home (CNN): http://edition.cnn.com/2011/09/24/world/meast/syria-jandali/index.html
Additionally, Senior Advisor on Syria to Secretary of State Hillary Clinton Mr. Frederic Hof will deliver the keynote address. Other speakers will include Dr. Mahmoud Khattab, chairman of SAC, Saed Mujtahid, SAC Government Relations Committee Chair, Bassim ElKarra, Executive Director, CAIR Sacramento, Mohammed Azeez, Imam of Al-Salam Islamic Center, and Alaeddin El-Bakri Imam of Saratoga Mosque.
The funds raised at the event will provide the victims of the Assad regime's brutality in Syria with humanitarian assistance.
WHERE: Sacramento State University Ballroom
6000 J Street
Sacramento, CA 95819
WHEN: Saturday, Feburary 4, 2012
5:00 – 9:00 PM
The Syrian American Council (SAC) was founded in 2005 to mobilize Syrian Americans to strengthen civil society in Syria, to promote friendly relations between the Syrian and American peoples, to engage civic and governmental organizations to advance civil liberties, human dignity and democracy in Syria. The organization has represented Syrian Americans to the U.S. State Department, Congress, and in international meetings and councils.
###