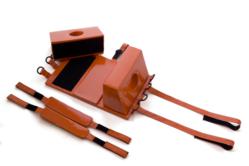 Quality head immobilizer to fit all spine boards.
Huntington Bach, CA (PRWEB) February 03, 2012
Lifeguard Store USA introduces a head immobilizer to fit all spine boards. This is important in an emergency situation because the immobilizer being able to go in any spine board saves time and helps get the job done the right way. As having everything speedy and professional helps to save lives.
This new head immobilizer is universal. Meaning the immobilizer can fit and strap on to any spine board.
Why is this so important? What's the big deal? One reason why this is so important is in an emergency situation you want to move fast. So the head immobilizer being able to fit in any board comfortably and fast gives the emergency provider vital time to help save that precious life. In a life saving situation, you don't want to think about parts or assembly. You want everything to move fast. Ideally, the head immobilizer will already be strapped on to the board and ready to go at all times.
This is very important, as well as very practical. This head immobilizer fits and assembles with any spine board. As spine boards may change or replaced from time to time, this immobilizer will fit in any spinal backboard. Whatever the case may be, the head immobilizer may change locations. Or new spine boards may be replaced periodically. What ever the case, this immobilizer will fit in any spinal board.
This head immobilizer is also durable and withstands the elements. The immobilizer withstands the elements of wind, rain, chlorine water, and ocean water. Why is this important? Your head immobilizer along with your backboard will be left outside for long periods of time. They may be left next to chlorine water and salt water. This head immobilizer is strong and is able to withstand these elements. This head immobilizer will last year after year. It's a very good idea to have a quality head immobilizer from a reputable company.
Another reason why you want a durable head immobilizer is you want to be able to put your immobilizer and board in a spot that is very easy to access without fear of the parts rotting away. Having your head immobilizer and spine board close by is vital in any emergency situation and can save precious time.
One other quality that this head immobilizer has is its buoyancy. You want the head immobilizer to float in case it somehow drifts away in an emergency situation. This immobilizer is made from a foam inside that floats.
This head immobilizer also holds the stability of the head firmly. Of course this is the whole point and purpose of head immobilizer? The over all purpose is to ensure that the victim's head is not moved during transport. This is vital in a life saving situation and a must for any immobilizer. As this is the whole point, to have the victims head secure and stable to prevent further injury. This immobilizer has cousins on either side of the victim's check are very stable. These cushions are locked into place, immobilizing the victim's head. This is accompanied by one chin strap and one head strap. These parts give added support and immobilization to the victim's head.
Lifeguard Store USA, also known as Lifeguard Master, has been providing effective and safe emergency supplies and equipment for years. We are one of the leaders in the industry for emergency and life saving gear. For more information regarding head immobilizers, please visit our website, send us an e-mail, or give us a call. Thank you. Please visit us at:
Sammy
Lifeguard Master
(714) 605-3090
http://www.lifeguardstoreusa.com/products/headimmobilizerforlifeguardbackboards
###