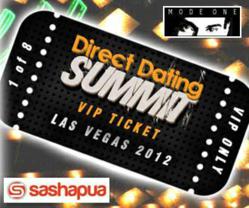 Forget the Ferrari: Honesty is the way to attract dream women!
Las Vegas, Nevada (PRWEB) February 03, 2012
On March 17/18th 2012, The Direct Dating Summit, held at a private location, will shatter all dating myths. Forget the Ferrari: Honesty is the way to attract dream women!
The Direct Dating Summit focuses on "the truth" about success with women - and life. Attendees will learn secrets that destroy limiting social programming, from a panel of experts, including:

Alan Roger Currie, author of the underground book "Mode One - Let the Women Know What You're REALLY Thinking," will teach how to become more confident, forthright, and authentic with women
Johnny Soporno, internationally renowned sexual anthropologist, will teach "The Monogamy Myth"
Badboy, will teach physical dominance, the natural way. He was featured in the bestselling book, "The Game: Penetrating the Secret Society of Pickup Artists"
Sasha Daygame, the creator of the event, will teach how to incorporate fun and spontaneity into everyday life, thereby making you more attractive to women.
James Marshall, a former Shaolin monk, will teach how to leverage the power of intent, so that men can make women fall quickly under their spell.
According to Sasha, "Most men try to fool women into liking them by pretending to be a 'nice' guy. They fear if they reveal their true intentions, they would lose the girl. Not true. Women want authenticity."
The Direct Dating Summit transforms men from average guys into strong, confident leaders who are naturally attractive to women.
"This has nothing to do with looks," Sasha insists. "As long as a man is passionate and desires to succeed, this event will show them how to fundamentally change their life and attract the girl they've always dreamed of."
Tickets and further information about The Direct Dating Summit can be found at http://www.DirectDatingSummit.com.
Sasha has established an international reputation. He has coached men across 5 continents, and spoken at several major men's conferences that have been featured in Cosmopolitan Magazine, Maxim, CNN, MTV, FOX, ABC, KTLA Penthouse and Playboy.
# # #