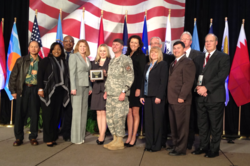 The Housing Team at Ft. Huachuca works every day to exceed the expectations of the U.S. Army and our residents.
San Diego, CA (PRWEB) February 02, 2012
The Professional Housing Management Association(PHMA), an international organization promoting excellence in housing management, yesterday named Fort Huachuca's Mountain Vista Communities as the U.S. Army's Outstanding Housing Team (Privatized Location) of the Year. New housing at Ft. Huachuca is being developed by Michaels Military Housing and community management is provided by Michaels Management Services, both part of The Michaels Organization.
The prestigious award recognizes the overall quality of on-post housing as well as the success of the management operations, as seen through such measurable results as resident satisfaction and occupancy rates. In addition, award winners must also have demonstrated an extraordinary commitment to community outreach and support programs for military personnel and their families.
"We see our mission as providing service members and their families 'The Best Living Experience period' and the housing team at Fort Huachuca works every day to exceed the expectations of the U.S. Army and our residents," said Ronald Hansen, president of Michaels Military Housing, the army's private sector housing partner at Ft. Huachuca. "We are grateful and delighted to receive this award."
Michaels Military Housing is currently six months ahead of schedule in developing and building new single-family homes for families at Ft. Huachuca. According to Hansen, Michaels is not only ahead of schedule, but also dramatically under budget thanks to the strategy of hiring two leading local home builders for construction.
"We are very proud to be able to offer more military families the opportunity to enjoy the absolute best homes in the privatization program at a faster pace than anticipated," said Hansen.
Mountain Vista Communities has seen record levels of occupancy over the past year, and more families than ever are participating in programs and services offered through Michaels "Community Connections" and "Deployed Spouses" programs.
In 2011, a record number of Ft. Huachuca residents also applied for and received educational scholarships through The Michaels Organization Educational Foundation, a non-profit affiliate of The Michaels Organization which provides educational grants that can be used by the recipients to pay tuition costs at any accredited college, university, or vocational training program in the country.
The Awards Program is held in conjunction with PHMA's annual conference and training event being held this week in San Diego.
About The Michaels Organization
Michaels Military Housing and Michaels Management Services are part of The Michaels Organization, a family of eight integrated but independent operating companies dedicated to excellence in affordable, mixed-income, military, and student housing based in Marlton, NJ. Michaels Military Housing is developing and renovating army housing at Ft. Huachuca, Ft. Leavenworth and the Yuma Proving Grounds. Michaels Management Services is managing housing at those army installations as well as Ft. Benning, and at MacDill and Andrews Air Force Bases. For more information, visit http://www.TheMichaelsOrg.com.
###