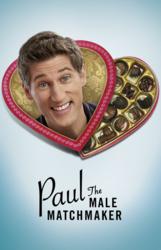 Single & looking 4 love? #PaultheMaleMatchmaker offers brutally honest dating advice in new comedy on @Hulu
Burbank, Calif. (PRWEB) February 02, 2012
Single & looking 4 love? #PaultheMaleMatchmaker offers brutally honest dating advice in new comedy on @Hulu http://bit.ly/xtEjOq
Best-selling author, writer and executive producer Liz Tuccillo (He's Just Not That Into You, How to Be Single, Sex and the City) and actor/writer Paul Bartholomew (Mad Men; Yes, Dear) have teamed up to create Paul the Male Matchmaker, a new, original series from Warner Bros. Television Group's digital venture Studio 2.0. The 10-episode no-holds-barred comedy series about a hopeless male matchmaker who has little to no affection for women, yet is determined to help them find a soul mate, debuts Monday, February 13, just in time for Valentine's Day, exclusively on Hulu.

"We couldn't be more excited to be partnering with Hulu for the premiere of Paul the Male Matchmaker," said Craig Hunegs, Executive Vice President, Warner Bros. Television Group. "With its commitment to original programming and fast-growing audience base devoted to quality programming, Hulu is the perfect platform for this unique comedy series."
In the series, shot in mockumentary style, Paul has inherited a matchmaking service from his aunt Cathy. By his own estimation, Paul is convinced that his charm and good looks can be put to use in helping the loveless find love. In reality, Paul is socially inept and naïve, and his unrestrained philosophy on dating can be shocking and frustrating to the women he claims to be "helping." Yet no matter how surprised his clients may be by his approach of brutal honesty, Paul truly hopes they'll find a mate as he has in his wife, with whom his marriage is perfect-ish.
Starring Bartholomew as Paul, Paul the Male Matchmaker also features an accomplished cast of actors, including Janeane Garofalo (The Larry Sanders Show), Lisa Edelstein (House, The Good Wife), Tony Hale (Arrested Development, Chuck), Sam Trammell (True Blood), David Eigenberg (Sex and the City), Jonathan Silverman (The Single Guy), Nadia Dajani (The Big C), and Darcy Sheen (Van Wilder), among other guest stars. The series also features prominent relationship experts — including The Millionaire Matchmaker's Patti Stanger and authors John Gray (Men Are from Mars, Women Are from Venus), Ellen Fein and Sherri Schneider (The Rules), and Mireille Guiliano (French Women Don't Get Fat) — whom Paul interviews when he feels his business is not thriving as it should.
"It's funny, even after having written on one of the most famous TV shows ever about being single and having co-authored a bestselling book about dating, people still felt the need to give me advice on what I was doing 'wrong' in my dating life," said co-creator of the series Tuccillo. "My fury and amusement about this is what inspired Paul the Male Matchmaker and gave me a lot of material for it.
"Hopefully, everyone will understand our intention," Tuccillo continued. "By making Paul so mean, and such a buffoon, we're trying to underline how much single women still have to put up with, even in 2012."
"This show is for anyone who has ever been set up on a horribly misguided date by their sister, friend, co-worker — and then been blamed for it not working out. Which is basically everyone," said co-creator/director Bartholomew.
Paul the Male Matchmaker was created and written by Tuccillo and Bartholomew, who also directs. The series is produced by Generate in association with Studio 2.0.
Contacts:
Tammy Golihew, 818 954 4855
Tammy(dot)golihew(at)warnerbros(dot)com, Twitter: @TeeVeeGal
Ben Brown, 818 954 7337
Benjamin(dot)brown(at)warnerbros(dot)com, Twitter: @BenBrownTV
Marc Klein, 818 954 7668
Marc(dot)klein(at)warnerbros(dot)com, Twitter: @mklein1
###