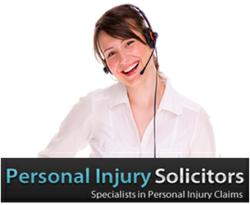 Our aim is to provide the best compensation claims service in the country
London (PRWEB UK) 3 February 2012
Personal Injury Solicitors London, who specialise in personal injury compensation services across the greater London area, are gearing up to further improve the range and depth of the services they offer their clients. It's all about putting the client at the very centre of the process, they say, and making what can be a difficult and stressful process for people as simple and worry free as possible.
This can only be achieved effectively by providing the right resource where it matters which is at every point of interaction with the client. At Personal Injury Solicitors London all potential compensation claimants deal directly with an experienced solicitor with direct access to a range of specialist support services. This is designed to ensure a smooth and efficient claims process which aims to meet any particular requirements the client may have.
'Our continued investment in support services is what enables us to consistently deliver an effective and successful compensation claims service for all our clients' the firm says.
Here are the key elements to the service provided by Personal Injury Solicitors London.
A wide range of injury compensation services
This includes car accident claims, motorbike claims, slips trips and falls, accidents at work, industrial diseases, dog attacks, injuries whilst on holiday, medical negligence claims and more.
Always putting the client first
A friendly, understanding and courteous service that puts the client first and guides them through the whole compensation claims process from start to finish, keeping them fully informed at all times.
No win no fee service
The firm is committed to ensuring access to justice for all by offering a no win no fee service and only charging if the claim is successful. This enables clients to pursue accident claims without having to pay fees in advance.
Guarantee to pay 100 percent of compensation awarded
This guarantee ensures clients keep all of their compensation award and there are no deductions. Fees are recovered from the opposing side.
Experience and expertise
Personal Injury Solicitors believe that only a fully qualified and experienced solicitor should handle injury compensation claims to ensure clients receive the best service and have the best chance of a successful claim.
High claims success rates
If a claim is to proceed, it needs to be successful and the compensation amount claimed should be maximised. Most accident claims are settled out of court and therefore the initial submissions, proving of the case and subsequent negotiations are critical parts of the process. The solicitors experience and a track record of successful claims are an important element in ensuring the best outcome for claimants.
Additional support services
Effective and professional administrative support is a key element in ensuring the highest levels of client service. Personal Injury Solicitors London place a high priority on this to ensure prompt communication and a fast pay-out service for their clients. Add to this the provision of additional support services such as help and assistance with specialist medical care, rehabilitation and employment issues and you can see why Personal Injury Solicitors London are rated so highly by their clients.
Personal Injury Solicitors London are specialists in personal injury compensation claims with one of the most experienced compensation claims teams in the country. They handle a wide range of compensation claims to include car accident claims, motorbike accidents, accidents at work, industrial diseases, slips trips and falls, holiday claims and more.
Personal injury claims are processed on a no win no fee basis and clients are guaranteed to receive 100 percent of their compensation award as fees are recovered from the opposing side.
If you are considering a personal injury compensation claim you should call Personal injury Solicitors London now and ask for a free consultation and assessment of your claim.
###