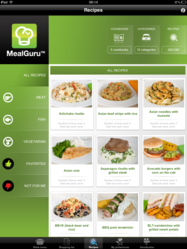 Transforms your iPad into a mobile meal planning solution.
New York, NY (PRWEB) February 03, 2012
EMP Company Inc. today announces the launch of MealGuru for the iPad and iPad 2. This app was built to help people prepare healthy dinners for everyday of the week, showing them what to cook and how to cook it. The MealGuru provides balanced, nutritious weekly meal plans based on recipes from a database of 280 unique recipes, each developed by professional dietitians in accordance with USDA Dietary guidelines. The MealGuru users simple decide which foods and flavors they like and MealGuru comes up with a balanced meal plan, easy recipe instructions with inspiring photos, shopping lists, and more to make it all a reality. The app does the planning for its users, shows exactly which groceries to buy, ultimately saving them a lot of time and hassle. Newly improved, this culinary resource now lets people add in personal recipes to use when planning meals too. MealGuru is currently available for download on the Apple App Store for $4.99 in the Health & Fitness category. A free version of the app with limited functionality is available to try as well.
A perfect meal planning solution for health conscious families, the app features a wide array of unique "kid-approved" recipes as well. To keep things as simple as possible, MealGuru compiles itemized grocery lists for every recipe it generates, ensuring that getting everything together to cook stays hassle-free. In-app recipes and grocery lists can be emailed to its user as well as to friends and family with the tap of a button too.
Leaving room for a personal touch, MealGuru now allows people to add and store personal recipes right into the app's database via its innovative My Cookbook function. Personal recipes are circulated and added into meal plans randomly, meaning that favorites will always find a fair place next to the apps' nearly three hundred dietitian approved choices. There's no need to spend hours searching for healthy recipes online or analyze nutritional content meal by meal. There is no more need for people to think up weeks' worth of meal ideas anymore! With MealGuru it is as simple as powering up an iPad.
Watch video demo at http://vimeo.com/35559794
To know more visit http://www.themealguru.com/
###