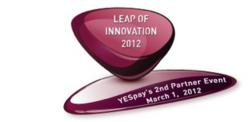 "Cross Border and Point-to-Point (P2P) Encryption in Payment Services" as the core theme of the second annual partner event on March the 1st, 2012 at Centre Point, London
(PRWEB UK) 7 February 2012
Recently, ACT Canada awarded YESpay the Gold International Innovation Award 2011. It is an acknowledgment to the fact that YESpay has been innovating and has been exhaustively serving and helping merchants and Point of Sale (POS) and Kiosk vendors throughout Europe and North America. The innovations have reduced the burden of costly and lengthy PCI-DSS certification and EMV chip & PIN accreditation for multi channel retailers.
With a host of innovations, YESpay takes pleasure in announcing its big Leap of Innovation Second Annual Partner Event on March 1st 2012 at Centre Point, London. With "Cross Border and Point-to-Point (P2P) Encryption in Payment Services" as the core theme of the event, the company plans to throw light on its multi-channel payment services incorporating Point-to-Point Encryption technology to stay ahead as the leading payment services provider (PSP) in Europe and North America.
You wouldn't want to miss all the exciting interactive discussions and presentations ranging from the future of Multi-channel services to our Roadmap of Innovations: Point-to-Point Encryption, mobile payments and digital mobile wallet services supporting Near Field Communication (NFC) contactless payments.
Various retailers and partners on the panel including Nisyst, Fuji Film, Itim, Retail IT, The Dune Group, The Entertainer and Vendorcom, will enlighten us with the latest trends in the payment industry. Meeting PCI-DSS mandates via Point-to-Point Encryption, NFC payments through smartphones, Cross Border Secure Payments, Multi-channel payment services and Cloud based unattended kiosk point-to-point encryption service will also be talked about.
Come and be a part of this interactive forum of knowledge sharing and networking with your counterparts and leading industry specialists on 1st March 2012 at Centre Point, London.
Agenda:
11.30 – 12.00 Registration and Welcome
12.00 – 12.30 Future of Innovative Cross-border, Multichannel and Secure Payments
12.30 – 13.00 Solutions Partner Panel: Multi-channel and Secure Payments
13.00 – 14.00 Lunch
14.00 – 14.20 Cloud based unattended kiosk point-to-point encrypted payment service
14.20 – 14.40 Point-to-Point Encryption service for physical payments at retail, kiosk and mobile environments
14.40 - 15.30 Retailer Panel: Multi-channel and Secure Payments
15.30 – 15.45 Coffee and Tea
15.45 – 16.00 Accepting integrated payments cross border in mainland Europe
16.00 – 16.30 Mobile Products Launch for merchants and consumers: Pouch wallet supporting contactless PayPass and PayWave cards on NFC smartphones; Mobile StoreManager supporting keyed, magnetic and contactless PayPass and PayWave MSD payments on NFC smartphones
16.30 Cocktails and Networking
Register now at http://www.yes-pay.com or email marketing(at)yes-pay(dot)com providing your details.
YESpay regularly processes millions of cardholder payments for its merchants and predicts mobile payment will attract customers and merchants alike looking to experience the speed, ease and convenience of paying with their mobile phone.
EPOS solutions providers, Mobile App and web developers can contact YESpay International Limited via sales(at)yes-pay(dot)com or 0871 221 9510 to request integration guides and obtain more information about the YESpay mobile payments strategy.
About YESpay International Limited:
YESpay, a global card payments service company, provides highly secure Internet, EMV Chip & PIN, contactless and gift card payment processing services to independent and multi-chain merchants. Through EMBOSS™, the YESpay Managed Payment Service, merchants can quickly accept integrated card payments within EPOS, kiosks, hospitality and e-commerce systems with minimal capital investment and low on-going services costs. EMBOSS is an on-line IP-based payment processing service that has been generically pre-accredited by major Card Acquirers in Europe and North America (including Chase Paymentech, First Data Merchant Service (FDMS), Barclaycard Business, HSBC, HBOS, Lloyds Cardnet, Streamline, Ulster Bank, Elavon, PBS, Amex and Diners). In addition, the YESpay EMBOSS service is fully end to end certified to Payment Card Industry Data Security Standards (PCI DSS) Level 1 as mandated by Visa and MasterCard. The YESpay EasyV-Suite of card payment products is innovative and cost-effective for EPOS, Kiosk, Hospitality, Mobile and Internet environments. With the YESpay EMBOSS card payment service, merchants can perform card payments in both card-present and card-not-present environments.
YESpay International Ltd Offices:
UK Headquarters: Checknet House, 153 East Barnet Road, Barnet, EN48QZ, UK
116 Spadina Avenue, Suite 201, Toronto, M5V 2K6, Ontario, Canada
UK/Europe Telephone: +44 203 006 3790
USA/Canada Telephone: +1 416 214 6012 or freephone +1 866 YES PAY 1
PR Contact: Supriya Rocha, SVP Global Marketing, +44-203-006-3790 ext. 5460
supriya(dot)rocha(at)yes-pay(dot)com
# # #