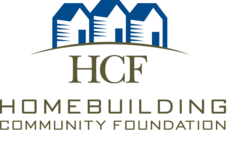 Houston, TX (PRWEB) February 08, 2012
Amidst the continuing economic challenges faced by the homebuilding industry, its professionals remain deeply committed to community support and development. By the close of 2011, industry professionals granted more than $4 million dollars to charitable organizations in their communities through the Homebuilding Community Foundation (HCF).
For 2011, 148 grants totaling $4,155,240 were granted by HCF fund holders to various nonprofits throughout the United States for charitable purposes. The largest single grant was $300,000 and the smallest grant was $250. These grants went to cultural, educational, arts, social service and faith-based organizations nationwide. HCF allows housing professionals a way to simplify their giving efforts by establishing personal, or "donor-advised," funds which are invested and managed by HCF. Donors then support the organizations of their choice by directing gifts from their HCF funds to the charities.
"Even though this is still such a difficult time in our industry, builders haven't forgotten to give back to their communities," says HCF president J. Roger Glunt, who is also President of Glunt Development Co., Inc. "Our founder developed this community foundation concept so that, in good times, builders can contribute money to their donor-advised funds. Then, in down times like the present, we can still be generous to organizations in need. This year our builders were very generous."
About HCF
The Homebuilding Community Foundation offers philanthropists in the housing and homebuilding professions an easy way to manage their charitable efforts in their communities. Since its founding in 2001 by the late James Z. Pugash, president of the homebuilding industry finance group Hearthstone, HCF donors have contributed more than $63 million to establish donor-advised funds. Contributions are set aside for charitable recipients as directed by the donor. To date, funds totaling more than $57 million have been given to provide financial support for cultural, educational, arts, social service and faith-based organizations nationwide.
###