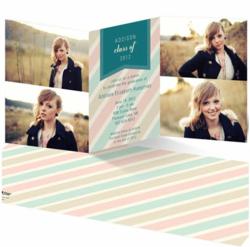 For today's graduates,
photos figure prominently in graduation announcements.
Mankato, MN (PRWEB) February 02, 2012
Graduation ceremonies and graduation parties are cherished moments that celebrate determination and accomplishment. As a new generation of grads-to-be approaches this emotional milestone, Pear Tree Greetings announces its new collection of unique and affordable graduation announcements.
"For today's graduates, many of whom are digital natives, photos figure prominently into their preferred graduation announcement designs," said Angela Ferrara, director of product development at Pear Tree. "The one-size-fits-all senior portrait of the past simply doesn't convey the personality of today's grads, who prefer photos that emphasize style, location and props."
The new Pear Tree graduation collection reflects the latest design trends in graduation invitations, graduation thank you cards, graduation announcement postcards and more, including bold stripes and the use of spirited school colors to add personality. Clever die-cut shapes, layered and folded designs make these graduation invitations stand out from the rest, and represent a departure from the ubiquitous invitations of the past.
"Just as every grad is unique, their graduation announcements should reflect the same individuality," Ferrara said. "Pear Tree Greetings' new designs are a welcome departure from traditional styles, yet are affordable enough for parents to love."
To preview Pear Tree's full selection of graduation announcements, graduation invitation party packs and more for 2012, please visit Pear Tree Greetings.
About Pear Tree Greetings
Pear Tree Greetings celebrates life's sharable moments with its unique collection of personalized, high-quality greetings and stationery made with 100-pound matte-finish card stock. With hundreds of designs for every occasion, available for purchase online for any budget, Pear Tree inspires people to stay connected with friends and loved ones.
###