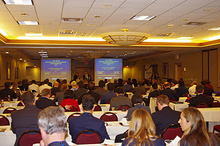 This event is very informative and helpful!
St. Louis, MO (PRWEB) February 02, 2012
Brian Su, CEO of Artisan Business Group, Inc., announces "The Midwest Conference on Foreign Investment: EB-5 & FDI" on Feb 17 in St. Louis. The on day event is intended to educate capital seekers on the latest trends in foreign direct investment (FDI) and EB-5 immigrant investors program. US Citizenship and Immigration Services (USCIS) recently reported 2,364 EB-5 visas issued in the first three months of the current federal fiscal year. This equates to at least 10,000 new jobs for American workers.
The February 17th, 2012 event will be centered on the topic of foreign direct investment into the United States and EB-5 immigrant investment. The event aims to help U.S. companies tap into foreign capital sources, with the ultimate goal of stimulating the economy and creating American jobs. The all-day event will feature some of the most highly-renowned and experienced international investment professionals. The keynote speaker of the event will be Mr. Frank W. McNeil, Director of Office Business and Workforce Diversity for the Illinois Department of Transportation. Other scheduled speakers include Mr. Brian Su, CEO of Artisan Business Group, Inc., Mr. Kevin Wright, President of Wright Johnson LLC, Dr. Nitish Singh, Associate Professor of International Business at the Boeing Institute of International Business at St. Louis University, and Dr. J. Mark Munoz, Associate Professor of International Business at Millikin University. More speakers are to be announced prior to the event.
"In today's economic environment, enterprises found difficult to locate capital through traditional funding source, many executives are now seeking foreign and alternative capital from overseas" says Brian Su, CEO of Artisan Business Group, Inc., an Illinois based Sino-US investment expert.
The conference will provide valuable insight and networking opportunities to those with previous international investment experience, as well as to first-time capital seekers. This year's event is being hosted and sponsored by Artisan Business Group, Inc., and will be held at the Embassy Suites St. Louis Airport Hotel. Those attending the event also have the opportunity to meet the prior day with Artisan Business Group's CEO, Mr. Brian Su, for a 1-hour private consultation.
To see more details about the event and registration, visit http://www.InvestmentfromAsia.com.
Press Contact:
Brian Su
Artisan Business Group, Inc.
http://www.EB5NewsBlog.org
###