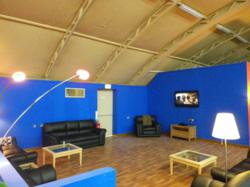 Arlington, VA (PRWEB) February 06, 2012
USO Bagram East officially opened their doors Sunday, welcoming in hundreds of troops and marking the USO's ninth center in Afghanistan- the second at Bagram Airfield.
Bagram Airfield is the second largest military base in Afghanistan and with 20,000 visits monthly, the Pat Tillman Memorial USO, could no longer continue to serve the thousands of permanent party military personnel living and working at Bagram Airfield. The USO, with support from the American people, constructed the nearly 8,500 square foot USO Bagram East to support the more than 30,000 permanent party military personnel deployed to Bagram. The Pat Tillman Memorial USO, located adjacent to the PAX terminal, will continue to serve the thousands of transient service members traveling through the military's most central meeting and transient point for flights in and out of Afghanistan.
The new center offers troops serving in one the most remote and harshest terrains a touch of home an opportunity to connect with their loved ones. With 14 computers, free wifi, and 18 private phone stations with free calls to anywhere in the United States, troops can easily connect with friends and family back home. The center was modeled after other USO centers in the region, incorporating ideas and areas that are most popular with deployed troops. USO Bagram East offers nine video gaming stations, a 40-seat movie theater, coffee bar, music room, library/quiet room, and card playing area. In addition, the center also provides signature USO programs and services such as United Through Reading's Military Program, snacks, beverages and weekly events.
With the opening of the Center the USO paid homage to fallen National Guardsman Specialist Sarina Butcher from Checotah, OK. Specialist Butcher was the first female and youngest 45th Infantry Soldier to die in combat. She was killed last November at age 19. The plaque commemorating Butcher's service will be hung in the spring in the outdoor garden adjacent to the Center.
USO Bagram East is open 22 hours a day (closed two hours daily for cleaning), 365 days a year. It is supported by volunteers who are active duty military personnel volunteering during their off-duty time.
The USO operates more than 160 locations worldwide with a presence on military installations, in airports, as well as remote forward operating bases in Afghanistan. Currently the USO operates nine centers and two communication tents in Afghanistan in addition to our centers in Kuwait and Qatar. Last year, USO locations were visited nearly 8-million times by service members and their families.
Click here for photos from the opening as well as full press kit and additional USO Bagram East information.
Twitter: USO
Facebook: USO
USO Bagram East
About the USO
The USO (United Service Organizations) lifts the spirits of America's troops and their families millions of times each year at hundreds of places worldwide. We provide a touch of home through centers at airports and military bases in the U.S. and abroad, top quality entertainment and innovative programs and services. We also provide critical support to those who need us most, including forward-deployed troops and their families, wounded warriors and their families and the families of the fallen.
The USO is a private, nonprofit organization, not a government agency. We rely on the generosity of our volunteers and donors. In addition to individual donors and corporate sponsors, the USO is supported by President's Circle Partners: American Airlines, Kangaroo Express, Kroger, Northrop Grumman Corporation and TriWest Healthcare Alliance and Worldwide Strategic Partners: AT&T, Inc., BAE Systems, The Boeing Company, Clear Channel Communications, The Coca-Cola Company, Lockheed Martin, Microsoft Corporation and Procter & Gamble. We are also supported through the United Way and Combined Federal Campaign (CFC-11381). To join us in this patriotic mission, and to learn more about the USO, please visit uso.org.
###