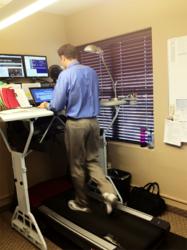 As a busy professional running the operations of a small office, I found myself letting my excuses get the best of me when time for workouts were no longer convenient.
Boise, Idaho (PRWEB) February 02, 2012
While many individuals lament there is not enough time in the day to exercise, TrekDesk treadmill desks have been helping thousands of employees fit exercise into their busy schedules for the past three years. Their goal is to allow employees an opportunity to improve health and prevent disease by taking 10,000 steps (5 miles) while at the office, normally achievable in 2-4 hours. Kirklyn Smith, a Boise executive had a different goal in mind, reaching a record milestone last week. Walking more than 52,000 steps during a single workday at his TrekDesk, Kirklyn accomplished a feat equivalent to walking the distance of a full marathon- 26.2 miles.
Starting in April of 2010 Boise, Idaho resident Kirklyn Smith estimates that he has walked more than 3,000 miles at his TrekDesk Treadmill Desk, averaging 15 miles per day. What motivated him to walk a full marathon in a single work day?
Kirklyn says it best in his own words:
"Move it or lose it" has been the refrain I've heard many times from my mom—a college wellness instructor—since I was young. As the creator of a fitness movement geared towards senior adults, she is an inspiration to me in how she exemplifies the incorporation of activity in her daily living as a healthy aging strategy. It was through one of her community wellness presentations that I learned of the non exercise activity thermogenesis (N.E.A.T.) concept championed by Dr. James Levine of the Mayo Clinic. This was my first exposure to the thought of walking while working.
"As a busy professional running the operations of a small office, I found myself letting my excuses get the best of me when time for workouts were no longer convenient. As with many Americans working at a desk, the occasional walk to use the restroom or refill of my coffee cup became the predominant exercise in my day. The infrequent workouts that I would make time for however were not enough to offset my love of food and wine. I knew a more earnest commitment needed to be made when I saw a flabby picture of myself that was not consistent with the way I visualized my physical appearance. The timing of my mother's presentation caught me at a point when I was receptive to making a change in the way I lived. I wanted something that I could continue doing as a senior citizen; something that would challenge me in my younger adult years; something that was sensitive to existing time commitments; I wanted to walk."
"Almost two years later, I'm still walking at the office. There have been some improvements to my walking speed and the duration of my walking since I first started. The fundamental thing that has changed is that I don't really think about being on a treadmill all day, every day, anymore. It just seems as natural as sitting at a desk when I make my phone calls, type my e-mails, complete my reading and perform my management duties. While tracking cumulative mileage is something abandoned long ago, it's common to average about 15 miles per day depending on activities that take me away from my TrekDesk."
"A particular day of notoriety came on Monday, January 23rd when a long to-do list and a long day at the office resulted in 26.2 miles walked. It was a marathon at the office in the literal and figurative sense of the expression. But the real value wasn't in the one, atypical marathon day at the office. The value, for me, comes in the habit of arriving at the office conditioned to get to work without a second thought paid to exercise or the distance walked the day prior. Exercise ends up being a forgotten byproduct of my everyday workday that takes care of itself. Each day begins like the last day ended…Walking."
"My mom's example resonates in my mind when I think of the active senior citizen I want to be. Whether it's a wellness strategy of "move it or lose it" or "move it to lose it", I feel like I'm on the right trek."
Kirklyn Smith is 32 years old and serves as the Director of Operations for EOI Direct. He lives in Boise, Idaho with his wife, Cherish. He started using the TrekDesk in April, 2010.
Designed to fit any existing treadmill, TrekDesk treadmill desk is an affordable, full sized, height adjustable workstation that allows individuals the opportunity to gain the necessary amount of exercise daily to maintain health, prevent disease, strengthen muscles, boost mood and productivity, without requiring additional time during the day or extra motivation.Workout at work with TrekDesk. No sweat!
TrekDesk is currently available for sale online at Amazon.com for $479.00 including free shipping.
Join the TrekDesk "Movement Revolution" to learn more, win a free TrekDesk or ask us any questions anytime at http://www.facebook.com/trekdesk, or follow us on twitter -http://www.twitter.com/trekdesk.
###