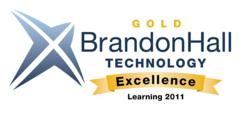 This is an exciting and continued validation of our efforts to provide innovative solutions to our customers and partners in the mobile learning arena.
Savannah, GA (PRWEB) February 03, 2012
OnPoint Digital, Inc., a leading enterprise mobile learning solutions provider, has won a coveted Brandon Hall Gold award for technology excellence in the "Best Advance in Mobile Learning Technology" category for the third year in a row. OnPoint's winning entry showcased its CellCast Solution, a full end-to-end platform designed to help organizations prepare, package, deliver and track content deployed to workers' mobile devices. Mobile learners use customized CellCast Apps™ to download and sync a wide variety of content types including HTML courses, ePUB and PDF files, audio/video clips, SCORM modules, animated slideshows, tracked tests and surveys and many others. OnPoint's CellCast Solution has device-specific native apps spanning all of the most popular smartphone devices used throughout an enterprise including Apple iPhone® and iPad™ , Android® smartphones and tablets, RIM BlackBerry® handsets and PlayBook™ tablet, Microsoft Windows® Mobile and Windows Phone 7® smartphones, and specialized tablets like the Cisco Cius™ and eReaders including Amazon's Kindle Fire™ and Barnes & Noble's NOOK Tablet™.
A panel of veteran, independent senior judges evaluated the entries along with Brandon Hall Group's industry expert analysts and leadership.
"We are thrilled to be recognized once again by Brandon Hall and their esteemed panel of judges for our CellCast Solution," said Katherine Guest, Vice President of Sales & Marketing for OnPoint Digital. "This is an exciting and continued validation of our efforts to provide innovative solutions to our customers and partners in the mobile learning arena to enable on-the-go training and business communications."
Said Mike Cooke, CEO of Brandon Hall Group, "2011 provided us with a unique viewpoint of how organizations are driving business results and performance improvement through technology. This was the year in which technology providers and their clients have been able to transform the power of mobile, social, talent, learning, sales and marketing technologies, with proven, validated results. Most impressive to our judges was an underlying theme around collaborative relationships, a deep understanding of client needs and how technology can be leveraged to create opportunities and operating efficiencies for organizations of all sizes. I am proud to announce these first-rate solution providers as award winners in the most competitive year yet."
About OnPoint Digital, Inc.
OnPoint Digital, Inc. is a leading learning solutions provider dedicated to the development of powerful yet affordably priced eLearning and mLearning tools for the enterprise.
OnPoint's innovative and award-winning CellCast® Solution allows companies to easily create, deliver and track mobile content and assessments directly to users' mobile devices. Smartphone learners use customized CellCast Apps to download and sync a wide variety of content types and take tests and surveys on their devices. With CellCast, organizations have a powerful, customizable and secure platform to deliver just-in-time training, learning reinforcement, surveys, and marketing updates. OnPoint's CellCast Solution helps organizations leverage their investment in mobile devices by maximizing their employees' time while mobile and ensuring a stable and mature environment for tracking and reporting results.
OnPoint also offers a full-featured Learning Management System software suite for the creation and management of rich-media courseware, assessments, skill tracking and reporting, with numerous options including document management, e-commerce, localization, Single Sign-on and gamification modules. (http://www.mlearning.com)
About Brandon Hall Group
Having worked with more than 10,000 clients globally and after 20 years of delivering world-class solutions, Brandon Hall Group is the preeminent research and analyst organization focused on developing research-driven solutions to drive organizational performance for emerging and large organizations. Brandon Hall Group has an extensive repository of thought leadership, research, data and expertise in Learning and Development, Talent Management, Sales Effectiveness, Marketing Impact, and Executive Management. (http://www.brandonhall.com)
Copyright © 2012 OnPoint Digital, Inc. All rights reserved.
The BlackBerry and RIM families of related marks, images and symbols are the exclusive properties and trademarks of Research In Motion Limited.
Apple, the Apple logo, Mac, Mac OS, Macintosh, iPod and iPhone are trademarks of Apple.
Android is a registered trademark of Google Inc.
Windows Mobile and Windows Phone are registered trademarks of Microsoft Corporation in the United States and/or other countries.
Kindle Fire is a registered trademark of Seesaw LLC.
NOOK Tablet is a registered trademark of Fission LLC.
Other company and product names may be trademarks of their respective owners.
# # #