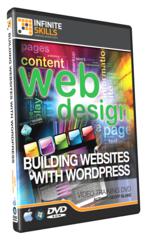 Learn to build Custom Websites with the Wordpress Platform
(PRWEB) February 04, 2012
Software training developer InfiniteSkills has announced the availability of its Building Websites with WordPress Tutorial Video course. Featuring 114 individual lessons, the training series moves through planning, wireframing in Illustrator, slicing page elements in Photoshop and full installation and configuration of WordPress 3.3 on a server. The tutorial has been developed as a comprehensive combination of graphic design and web development training that viewers can implement in WordPress websites for themselves and professional clients.
"This is definitely our most unique training course to date," said Colin Boyd, sales director at InfiniteSkills. "It covers all aspects of design and development, using multiple programs and technologies to demonstrate a real professional workflow."
Building Websites with WordPress Tutorial Videos - DVD Training
The WordPress development tutorial is broken down into separate chapters based on each major stage of design and development. WordPress course instructor Geoff Blake begins with a guide to site planning and wireframing techniques, covering key design principles and showing how to work with Adobe Illustrator as a web layout tool. After putting a basic mockup in place, the tutorials show how to move into a site's fonts, colors, logo and principle design elements. Within Adobe Photoshop, these components are finished and then sliced as needed for proper placement on the page.
Next the course moves into the installation and configuration of WordPress on a local machine for development and testing. The WordPress training shows how to install and configure MySQL, XAMPP and MAMP for a functional installation that lets the user create and test builds before going live. Instructor Blake goes through the WP front-end and back-end and shows how to create a completely custom WordPress theme based on the previous wireframes. He then goes through individual blog and newsfeed design, page design and the creation of a functional frontpage slideshow, sidebar and footer.
Finally, the WordPress tutorials conclude with a detailed chapter on uploading the fully themed WordPress site to a live web server for launch. The resulting project website at the heart of the training is then fully accessible to visitors, and ready for regular updates and posts from even non-technical users.
"Geoff has a unique talent for taking the entire process and putting it into steps that any user can understand," said Chris Johns, content specialist for InfiniteSkills. "He's even able to go into more technical aspects of PHP and CSS that will help WordPress builders really get the most from their sites."
In addition to the Building Websites with WordPress Tutorial Video for InfiniteSkills, Geoff Blake has authored over 30 other video training courses on development and design topics. He has worked professionally as a designer in print and web-based industries.
The complete Building Websites with WordPress Tutorial Video Course retails for USD $99.95, and it can be ordered on DVD-ROM or as a direct download from the InfiniteSKills website. Both versions are Windows and Mac compatible and include working files that match the project examples in the course. Further information and free WordPress tutorial demos can be found on the training page.
http://www.infiniteskills.com/training/building-websites-with-wordpress.html
About InfiniteSkills Inc
InfiniteSkills is a leading provider of video training on popular software, programming languages and technical skills featuring the best teachers and tutors in the world. In addition to training on DVD-ROM, the company has actively pushed to publish its tutorials to eLearning and mobile app formats.
###