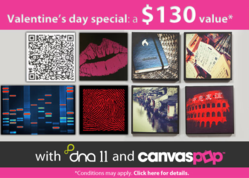 Our goal at Smartbox is to evoke emotion through gift experiences while our partners DNA 11 & CanvasPop remain in the forefront in creating artwork rich in 'framing' your emotion.
(PRWEB) February 06, 2012
Smartbox, the worldwide leader in the 'experiential gifting' category, has partnered with custom art leaders DNA11 and CanvasPop to reward consumers with an exclusive promotion. Any Smartbox gift experience that is purchased from now through Valentine's Day, will receive a total of $130.00 in value - $100.00 at DNA11 and $30.00 at CanvasPop.
Smartbox will provide a special promotion code to each consumer with order confirmation of a Smartbox gift experience that will be able to be redeemable at DNA11 and CanvasPop.
DNA 11 is the original creator of DNA Art - the world's most personal form of art that combines design, technology, science and pop culture. They create contemporary custom portraits from your DNA, fingerprints and kiss prints. Each modern art piece is as unique as the person purchasing it. The one-of-a-kind art pieces can be found in the Museum of Modern Art (MoMA) stores, have been featured in an episode of "CSI New York" and can be found in thousands of homes around the globe.
CanvasPop is North America's most innovative and fastest growing photo-to-canvas printing company. They print on archival-grade canvas and promise 100% satisfaction and a lifetime guarantee. Great ready to experience the best in customer service with a personal designer assigned to each order, free digital proofs and complimentary PicturePerfect™ image tune-up.
"We are very proud to partner with two innovative worldwide custom art leaders – DNA 11 and CanvasPop – to reward our loyal consumers," said David Meyers, Smartbox CEO of North America. "Our goal at Smartbox is to evoke emotion through gift experiences while our partners DNA 11 & CanvasPop remain in the forefront in creating artwork rich in 'framing' your emotion."
"With both of our companies being industry leaders in innovation, it was a natural fit for us to partner with Smartbox," said Adrian Salamunovic, co-founder of DNA 11 and Canvas Pop. "Our custom art is meant to evoke emotion and make your memories last a lifetime. We look forward to being a part of the Smartbox experience."
The emerging "experiential gifting" industry provides thought from the gift-giver and an array of options for the gift recipient. Led by Smartbox, the "experiential gifting" category has gained it's international popularity by creating emotions and memories in the gifting industry – both in consumer and business marketplaces.
The New York City Smartbox collection includes:

Zagat Smartbox New York City "Table for Two" – Three-course dinner for the recipient and a guest at one of 50 Zagat-rated restaurant in New York City. Restaurants include Tribeca Grill, Fishtail by David Burke, Philippe and many more. ($99)
Spa & Wellness New York – Health and wellness treatments ranging from Vichy showers and ice cream pedicures to champagne manicures and lemongrass body scrubs. ($99)
Gourmet Retreats New York – One night stay in lavish accommodations, sumptuous five-course dinners, breakfast included, in-room massages, and plush king size suites. ($369)
Charming Getaways New York – One-night stays in historic homes, rustic ranches or quaint Victorian Inns with breakfast included. ($129)
Adventure New York– Opportunity to take a surfing lesson, horseback riding or many other exciting options. ($69)
Fun for All New York– Activities for Two including Winery Tours & Tasting, Pinball Museum and Cooking Lessons. ($49)
About Smartbox
Smartbox is the next generation of gift cards allowing one to choose from a selection of activities and destinations within a given theme. Smartbox is presented in a gift box featuring a color guidebook with full details of each activity or escape. The recipient selects an experience, makes the reservation directly with the establishment (contact details are provided in the guidebook) and redeems the gift card upon arrival.
About Smart&Co
Since its creation, Smart&Co. has grown at an exceptional rate. Having branches in Europe, the U.S., and Canada with its head office near Paris, today it employs more than 1,000 employees. Smart&Co. and its Smartbox gift experiences are specialists in creating interesting trips and leisure activities. Since the founding of the group, more than 5 million Europeans have experienced Smart&Co. In 2004 Smart&Co. was awarded the Oscar for Innovation -- Smart&Co. continues to find new ways of bringing people together for leisure pursuits.
###